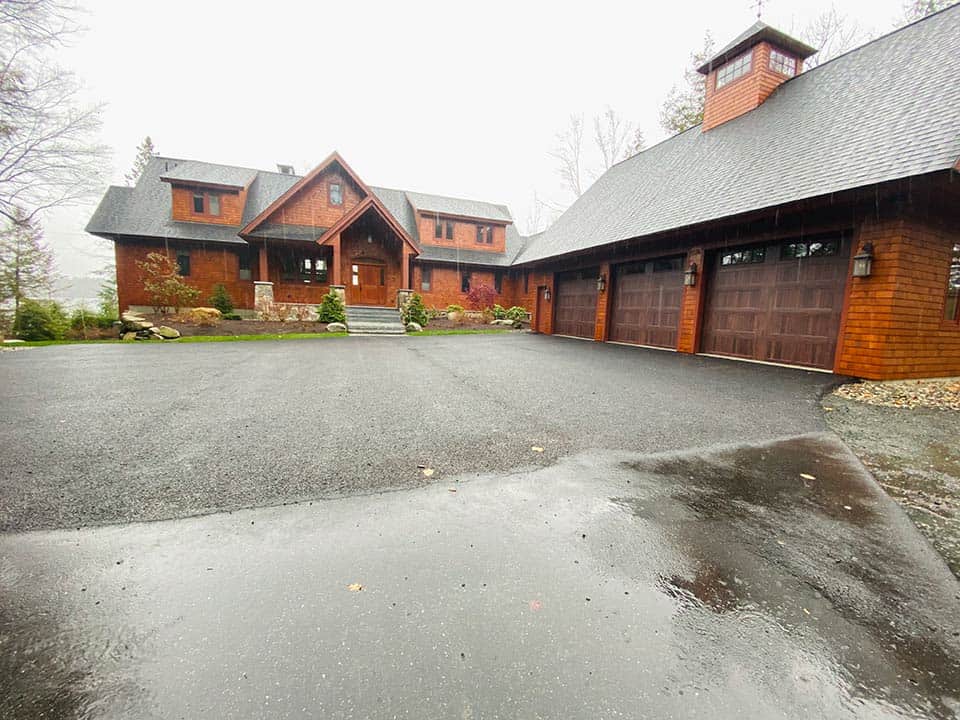 The pathways, patios, and driveways around our landscaped yards and gardens are often semi-neglected strips of land that deserve their own care and attention to detail. You may be pleasantly surprised to learn that there are more eco-friendly options available today which not only improve the visual aesthetic, comfort, and safety of these passageways, but can also be beneficial to the environment.
Simply defined, permeable paving is the setting of porous paving stones in sand and gravel, and adjusting the size of the gaps between to allow for water to drain into a crushed stone base below. Permeable paving has been used for roads and paths for thousands of years, but in the past century or so, has fallen out of favor due to the increased popularity and ease of laying down impervious coverings such as blacktop asphalt or concrete.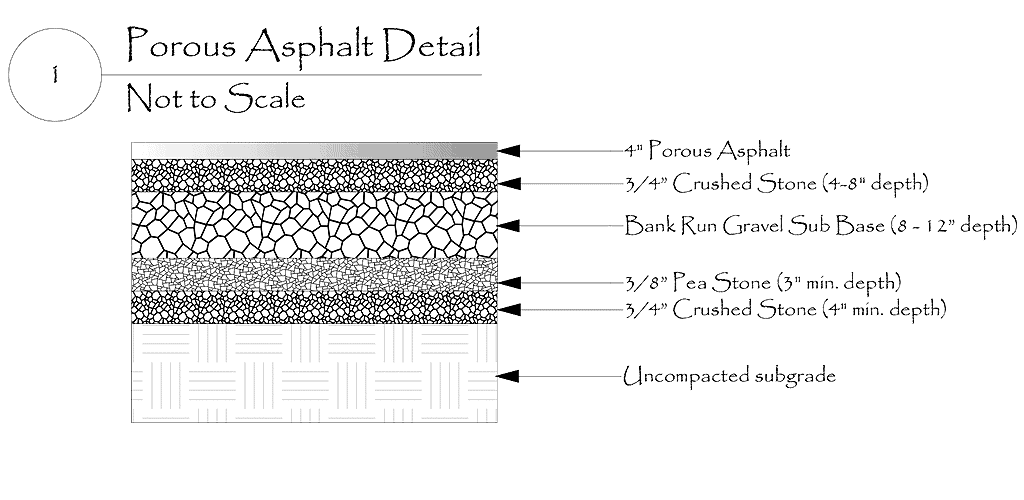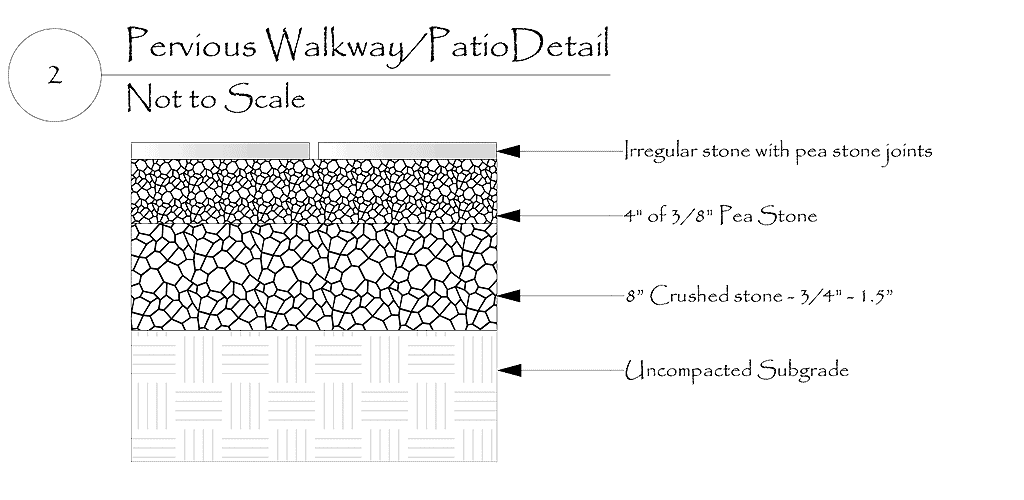 How are permeable pavers considered "green"?
Consider what happens when it rains on asphalt or concrete: The rain comes down, and water pools on the surface because they are impervious. Rainwater then makes its way to the edge of your lawn or out to the street, picking up any debris or chemicals along the way (like oil or drops of gas from vehicles, for example). This dirty water gets sent down the storm drain, and flows into lakes, rivers, reservoirs, and oceans.
Permeable pavers will act as a natural filter for this water. The water, instead of pooling on the surface of the paver and immediately running off, will instead make its way down through the crushed stone and sand layers. These sediment layers will both filter the water and slow down the rate of water going into the storm drains, alleviating the demand put on drains during heavy storms and lessening the chance of flooding.
You can up the "greenness" by installing a rainwater collection system beneath your pavers during installation, allowing you to capture this water for use in your yard or garden. There are also permeable paver stones made of recycled materials, that are eco-friendly.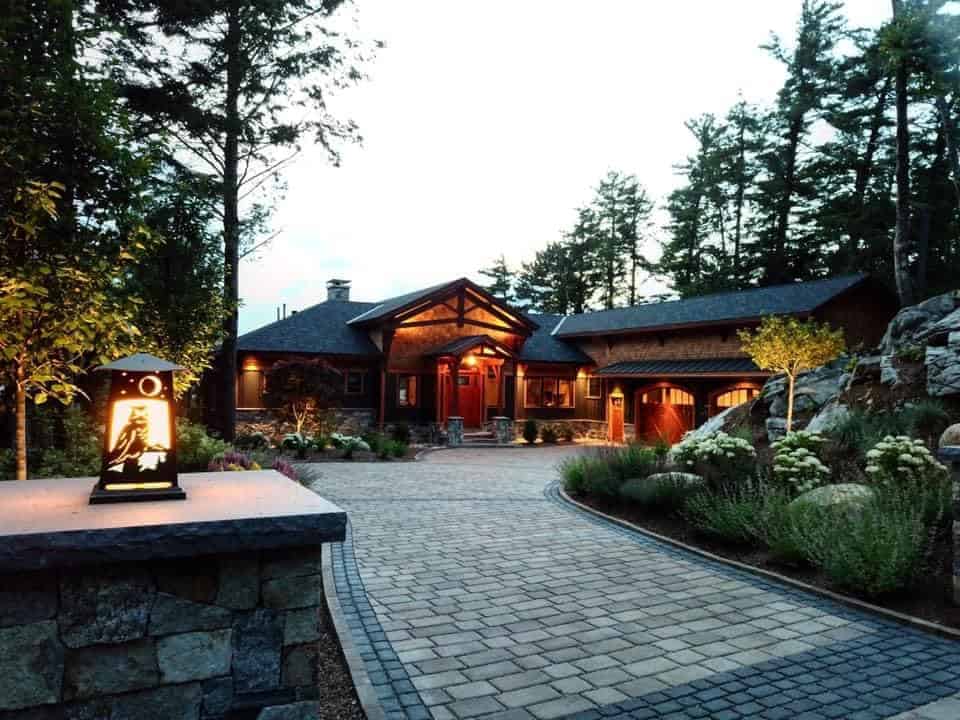 Can permeable pavers make driveway or patio more comfortable or safer to walk on?
By installing more permeable materials in your hardscapes, you can absolutely make driveways, walkways, and entertainment spaces more comfortable and safer year-round.
Impermeable materials, such as blacktop or densely packed tiles, not only trap water but also heat. Have you ever tried to walk barefoot across a driveway in the summer? If you have, then you likely quickened your pace because the surface was so hot. During the winter, when the snow melts and the water freezes, it's common to find icy patches on driveways and sidewalks, which can be dangerous for household members and guests.
However, because permeable pavers are porous and allow water to pass through them, they stay naturally cool in the summer, and safer to walk and drive on in the winter. The water drains from the surface and through the joints more quickly, and does not rest on top of the pavers themselves allowing for fewer icy patches and less safety hazards in your passageways.
Questions? Please ask!
We have years of experience in designing and installing permeable pavers, and would love to discuss your project and ideas with you. There are a wide variety of permeable paver styles available to complement your home and landscape. We will work closely with you to design and implement plan that best fits your space, design aesthetic, and budget. Contact us, or give us a call at 603.707.0630.
Additional Resources:
UNH Stormwater Porous Fact Sheet