Fall and winter in New England produce a lot of rain and snow. All that water will make its way down our roofs, through our gutters and drainpipes, across our lawns and driveways, out to the street, into our municipal water supplies, and out into streams, lakes, and oceans. With that water unfortunately comes pollution, however unintended.
As homeowners, is there anything we can do to mitigate the damage unclean stormwater can do to our local environment? As a matter of fact, there's an easy and beautiful way to both clean the water and add beauty to your landscaping—install a rain garden!
Rain gardens can be a lovely and cost-effective way of "going with the flow", pardon the pun. A rain garden can add a focal point while also serving to reduce and clean stormwater runoff from your property and possibly alleviating possible future water problems, like water in your basement, if installed correctly.
What is a Rain Garden?
A rain garden is a dip or indent in the ground that where plants are sown; this garden area is specifically designed to collect, treat, and filter stormwater runoff. Because these gardens are sunk lower than the lawn, the dirty runoff water collects there instead of running directly into the street, and is absorbed slowly into the dirt, and/or filtered by your plants.
Where Should I Put My Garden?
A rain garden should be at least ten feet away from your house, to keep it away from your house's foundation, and at least fifty feet away from any septic system or well. If you are unsure about the quality of your soil, a good test is to dig a hole about twelve inches deep and pour water into it; if the water disappears within twenty-four hours, the soil is the perfect quality to host a rain garden.
Rain Garden Planting Areas & Plant Suggestions
When considering plants for your rain garden, remember you'll have three areas to consider:
The edge: This is the top of the rain garden, where there is a mound of dirt. This is the highest point. You'll need to select plants that prefer drier conditions here. Some plant ideas include:

White Turtlehead: They prefer dry soil and pollinators love them
Hairy Beardtongue: These delicate blooms attract hummingbirds and butterflies
Butterfly Milkweed: These tiny and lovely orange flowers are long blooming

The slope: As its name implies, this is the part that goes downward from the top of the edge to the bottom, and out from the middle to the edge. Choose plants that can handle both moisture and dry conditions.

Wild Bergamot: This striking flower adds color and attracts pollinators
Bottlebrush Grass: This wispy tall grass is perfect for providing texture and visual interest
Blue False Indigo: This perennial bush will add deep blue flowers to your garden

The base: The bottom is the most wet part of the rain garden, and plants here need to be able to survive the wettest conditions.

Astilbe: Choose pink, red, purple, or white moisture-loving perennials
Swamp Rose Mallow: Large, showy blooms make a great centerpiece for your garden
Winterberry: The bright red berries will add welcome color to your garden throughout the winter months
For more helpful information on rain gardens, we recommend clicking here!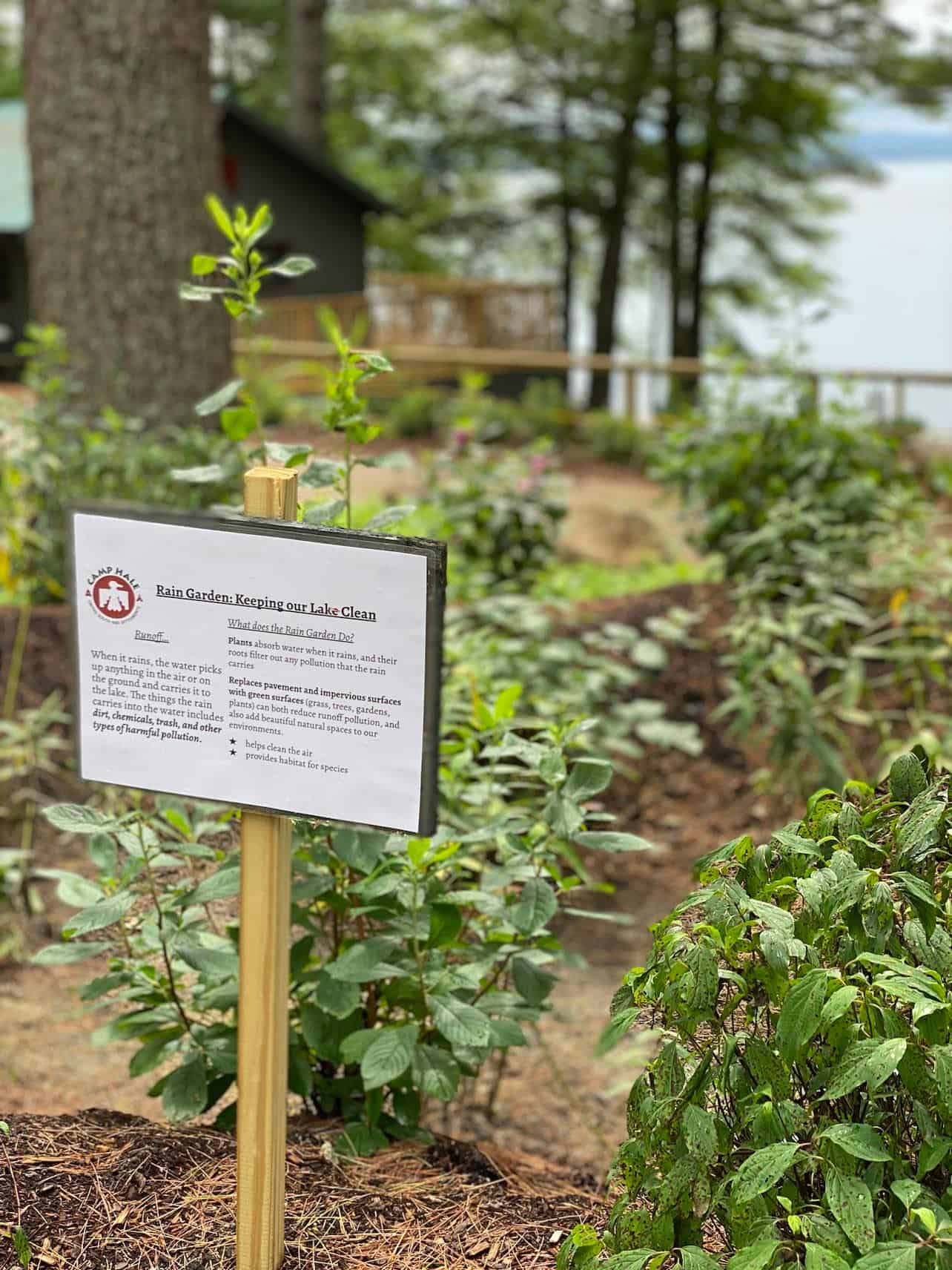 One Last Consideration
While rain gardens are relatively easy to install, an improperly installed one can cause problems with drainage—the thing they were designed to help alleviate. We've helped many homeowners add rain gardens to their properties, and we'd love to help you add this functional beauty spot to your own. Please call us at 603.707.0630 or email us to get started.