Nothing is better than sitting outside in your yard and catching the sweet aroma of wild bergamot in the breeze. With these native plants, you can breathe in the natural fragrance of our home woodlands. They're hardy, low-maintenance, and benefit the wildlife of our larger ecosystems. Here is a taste of the beautiful scents and colors you can enjoy right in your garden!  
Woodland Phlox 
In April and May, Woodland phlox displays a dazzling carpet of small white or pink flowers. The cloud of blooms is a feast of early season nectar for hummingbirds and butterflies, especially the tiger swallowtail. This low-maintenance native plant thrives in semi-shaded areas and provides good groundcover in woodland gardens or between other perennials.   
Anise Hyssop
This anise hyssop unfurls towers of lavender blooms from mid to late summer. This fragrant native plant exudes a unique anise scent, which will waft through your garden and attract pollinators from far and wide. Easy to care for and drought-tolerant once established, it's an ideal, long-blooming perennial for your wildflower garden. Plus, you can eat the leaves as a herb. 
Wild Bergamot 
This aromatic native perennial blooms with purple-pink flowers in early summer. Though they look like tufts of petals, they're actually a mass of tubular flowers, which butterflies and hummingbirds love to feed on. You can use the fragrant leaves as an herb, similar to oregano, or brewed for a soothing, minty-oregano tea. They thrive in well-drained soil and full or partial sun.    
Buttonbush
Both intriguing and adorable, this native plant features pom-pom-like fragrant flowers that draw pollinators in like a magnet. An excellent choice for damp soils, buttonbush is a moisture magnet that also helps to control erosion in the landscape. The whorls of glossy ovate foliage and red, ball-shaped fruit of this native shrub remain attractive outside of its June through September bloom period.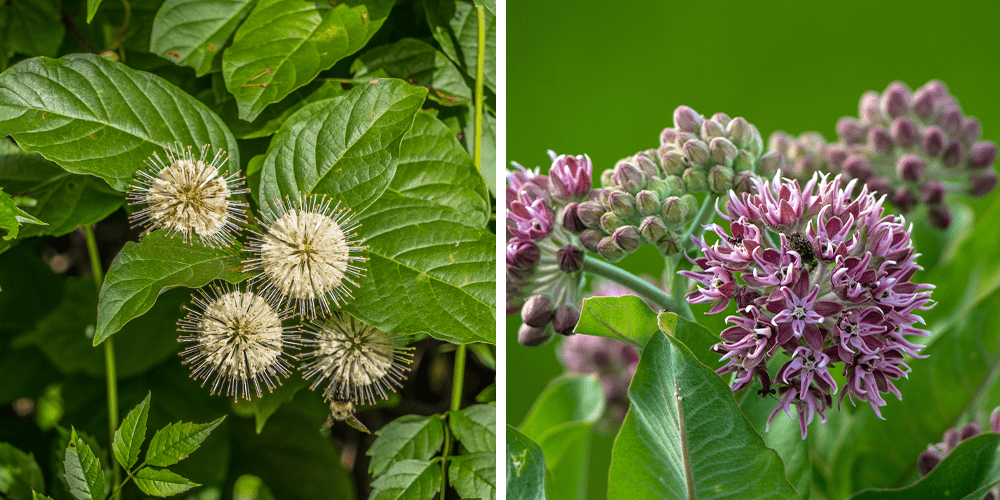 Common Milkweed 
This native wildflower blooms with spherical tufts of mauve flowers from June through August. The fragrant blooms are a magnet for pollinators, and the whole plant is essential to the life cycle of monarch butterflies. During their cross-continental journey from Mexico to Canada, they lay their eggs on the milkweed, which the larvae exclusively feed on as they mature. Besides attracting insects, these easy-to-grow wildflowers bring clumps of color and fragrance to any naturalized garden or perennial border and are an excellent addition to a pollinator garden.
Swamp Azalea
This delightful native shrub is a great choice for multi-season appeal in the landscape. Clusters of funnel-shaped white or pink-tinged flowers emerge in the early summer, releasing a perfume so potent it can be enjoyed from a nearby patio. In the fall, the foliage takes on brilliant shades of yellow, orange, and purple that meld whimsically with the New Hampshire autumn scenery.
Aromatic Aster 
Asters shine brightly at the end of the growing season when other flowers are fading; they are aptly named with the Latin word for 'star.' They display vibrant violet petals with yellow centers, similar to daisies, from late summer into fall. They are both host plants and an important source of late-season nectar for butterflies and bees. They are low maintenance, easy to grow, and drought tolerant once established. This particular species of aster is well-loved for its especially fragrant flowers.     
Come into our Moultonborough garden center to see and smell these fragrant native plants in person. We promise that you'll love the sweet scents they bring to your garden, and they won't cost you any extra effort or maintenance. Follow us on Facebook or Instagram for more news and updates!