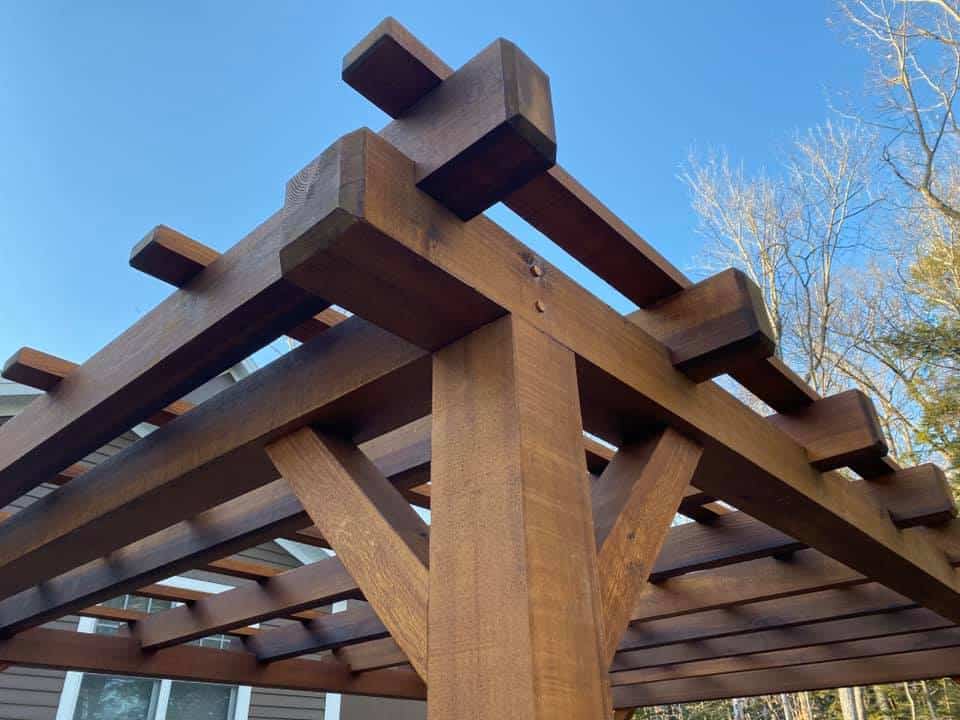 TAKING IT OUTSIDE
Warm weather has finally arrived in the Lakes Region and many of us are looking forward to spending more time outdoors.
While outside, you may realize your outdoor space needs refreshing, or even a complete renovation. Whether you have an established space that needs updating or you're starting from scratch, there are many things you can do to make outdoor spaces comfortable, functional, and welcoming.
A MATTER OF SPACE
The first step is to consider what you want to do with the space—what do you want to use the outdoor space for? What will happen the most out there?
Outdoor spaces are often used as places of refuge, where people go to read and relax, and become one with nature; they can be great exercise spots or peaceful meditation gardens. One of the most common uses for outdoor areas is a play space for the whole family. There are many customizable play-sets available at differing price points, depending on age and interest levels. Larger areas could accommodate putting greens, bocce courts, or small disc golf courses.
Once you determine how you would like to use the space. With a little planning, you can make your deck, patio, or backyard an extension of your home. If you already have a deck, you can enlarge it on the same plane, or add levels. Adding on to a patio will give you more space to work with. A backyard redesign or upgrade will give you the most opportunities to create a space that will suit your needs.
Some people use outdoor spaces as an extension of their living room, and furnish it with rugs, décor, and comfortable furniture. Others use this space as an outdoor kitchen or entertaining area. Grilling areas can be expanded to include preparation, storage, and counter space, as well as dining. Larger cooking areas may even include pizza ovens or a bar and lounge area.
BUILT FEATURES
A popular and useful structure for any outdoor space is a pergola, pavilion, or gazebo. What once started as garden follies are now available in many configurations, materials, and price points. These structures offer additional opportunity to incorporate beautiful landscaping and plantings to increase natural beauty and add visual interest to your landscape.
In conjunction with garden structures, a fire pit is a great addition to any patio or back yard, perfect for relaxing at night, and making s'mores.
Another great addition to an outdoor space is the inclusion of a water feature. Some ideas include a fountain or koi pond; a pool, either above ground or built in; or a hot tub or spa.
Plantings play a big part in making your space the most inviting. We can work with you to develop a plan that will not only look good in your available space and accommodate your specific needs, but that will also make the most sense with our climate and growing season in the Lakes Region.
HOME BENEFITS
Thoughtfully designed outdoor areas can give you years of enjoyment, as well as increase the value of your home. Many people see an increase in their property values, as a return on investment for upgrades made to outdoor spaces. For more information about what a good outdoor space can do for the value of your home, contact our associates at Lake Life Realty.
WE CAN HELP
There are as many options as there are ideas for creating or refreshing outdoor living spaces. We have created some beautiful and functional outdoor spaces and would love to help with your plans. We'll work closely with you to design a plan that best fits your space, design aesthetic, and budget. We're excited to see what you have in mind. Contact us today!