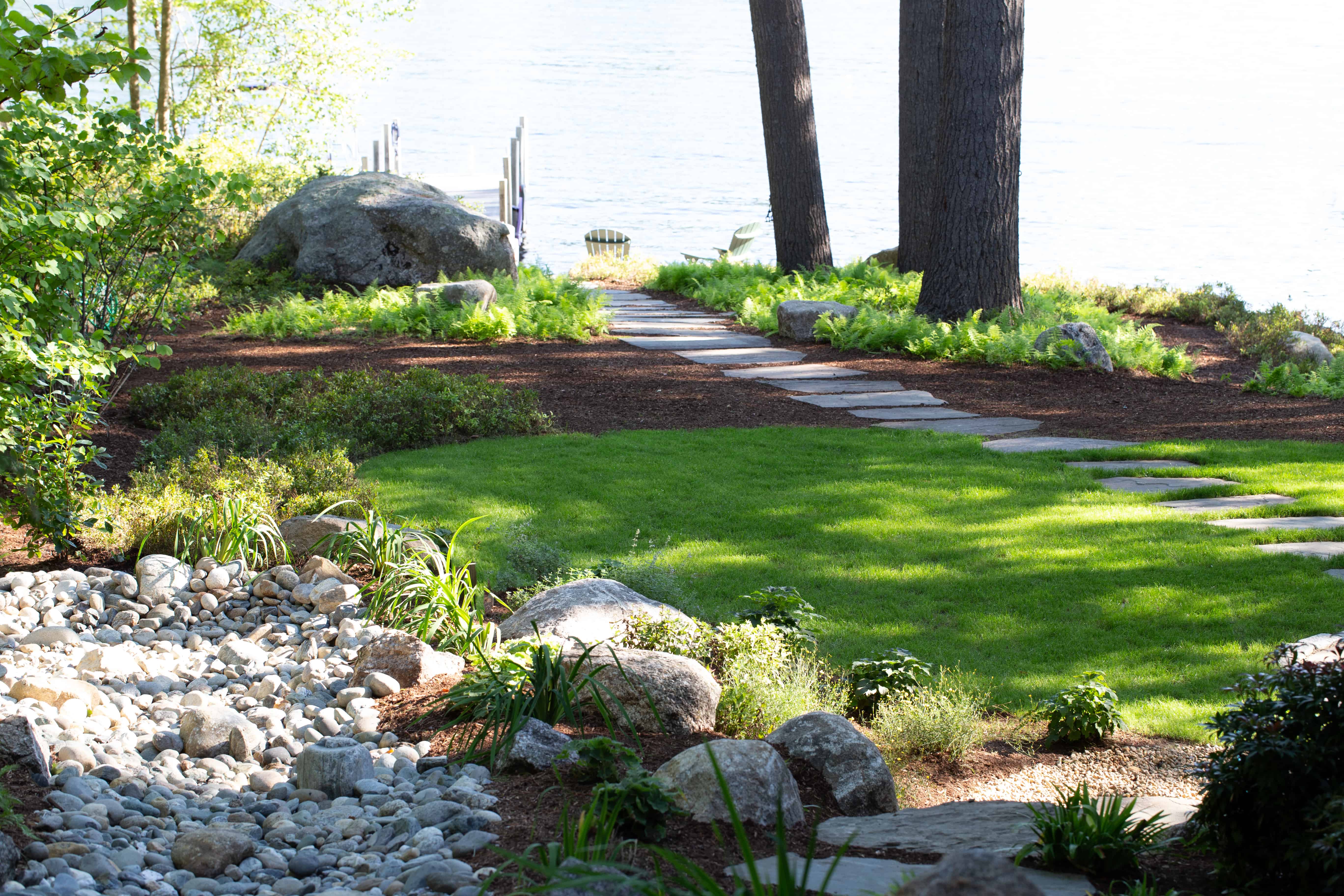 People are drawn to the beauty of New Hampshire for its mountains, wildlife, and its numerous pristine lakes and ponds. The Shoreland Water Quality Protection Act (SWQPA) was established to protect the natural resources and to oversee the management of shoreline properties. Protecting our natural resources and the quality of our public waters is the responsibility of all to ensure the health of the environment and the economy of NH.
The SWQPA regulates vegetation management within 150 feet of public waters. If you are a landowner of waterfront property here is a breakdown of the most important regulations.
Within 50' of the shoreline no ground cover or shrubs may be removed, converted to lawn, or landscaped. However, shrubs can be trimmed to a minimum height of 3' and can be removed to create a single 6' wide walkway to the waterbody or water dependent structure such as a dock, beach, or boathouse.
Trees may be removed within 50' of the shoreline if they are dead, diseased or unsafe because of a structural defect or pose an imminent hazard. Stumps do need to remain in place but can be cut flush to the ground unless they are being replaced in the same location with new trees.
Healthy trees can be removed, but there are limitations based on a tree grid and a point score system. Property owners are encouraged to manage grid segments by planting additional saplings. Priority should be given to planting within grid segments that do not meet the minimum point score.   Once saplings mature and the grid segments total point score increases, then additional trees could be removed.
It is recommended to document any trees you remove with before and after photos and a letter from a certified arborist describing the tree's defects to help assist with any questions the town or state may have.
If you are considering re-designing or adding any additional landscape features to your lake front property, it is recommended to consult with an experienced landscape professional to help you maneuver through the town and state regulations. The SWQPA is a state regulation, but keep in mind that many municipalities have adopted stricter ordinances or by-laws. A NHDES permit is not required for vegetation management, but is required for removing stumps, constructing walkways, patios, perched beaches, docking systems or grading, etc… Stephens Landscaping Professionals has extensive experience designing and executing waterfront landscapes and has in-house designers and permitting specialists that would be happy to discuss your questions and help you maneuver seamlessly through the process.
For more information on Shoreline Vegetation Management for Water Quality, you can view the Environmental Fact Sheet from NH Department of Environmental Services. by clicking here.