Fall is arguably the most beautiful time of year in northern New England, and so it makes sense that many of us want to extend our time outside and enjoy the great weather, beautiful foliage, and cool nights that this season brings.
One way to add to the enjoyment of staying outdoors as the temperatures dip is to add a heating element to your outdoor spaces. You can add a decorative touch as well as a heating option by choosing a fireplace or fire pit. Both are wonderful additions to your outdoor areas and put out about the same amount of heat but have different things you should consider.
A Heated Focal Point
When you install a fireplace or fire pit on your property, it becomes a focal point of your landscape and a natural gathering spot that's perfect for entertaining and socializing with family and friends. It's a casual place to hang out and chat or unwind after a long day. It's easy to sit around a fire and sip cocktails or roast marshmallows to make s'mores (or both!).
A fire element adds warm tones of light to your landscape and provides a good "wall" at the end of a patio or seating area, especially if you install a fireplace. A fire pit can help you create a new seating or conversation area if you want to break up a large expanse of lawn or use a previously unused/underused corner more efficiently. A more permanent fire element, like built-in fireplaces or fire pits, can increase your property value as well.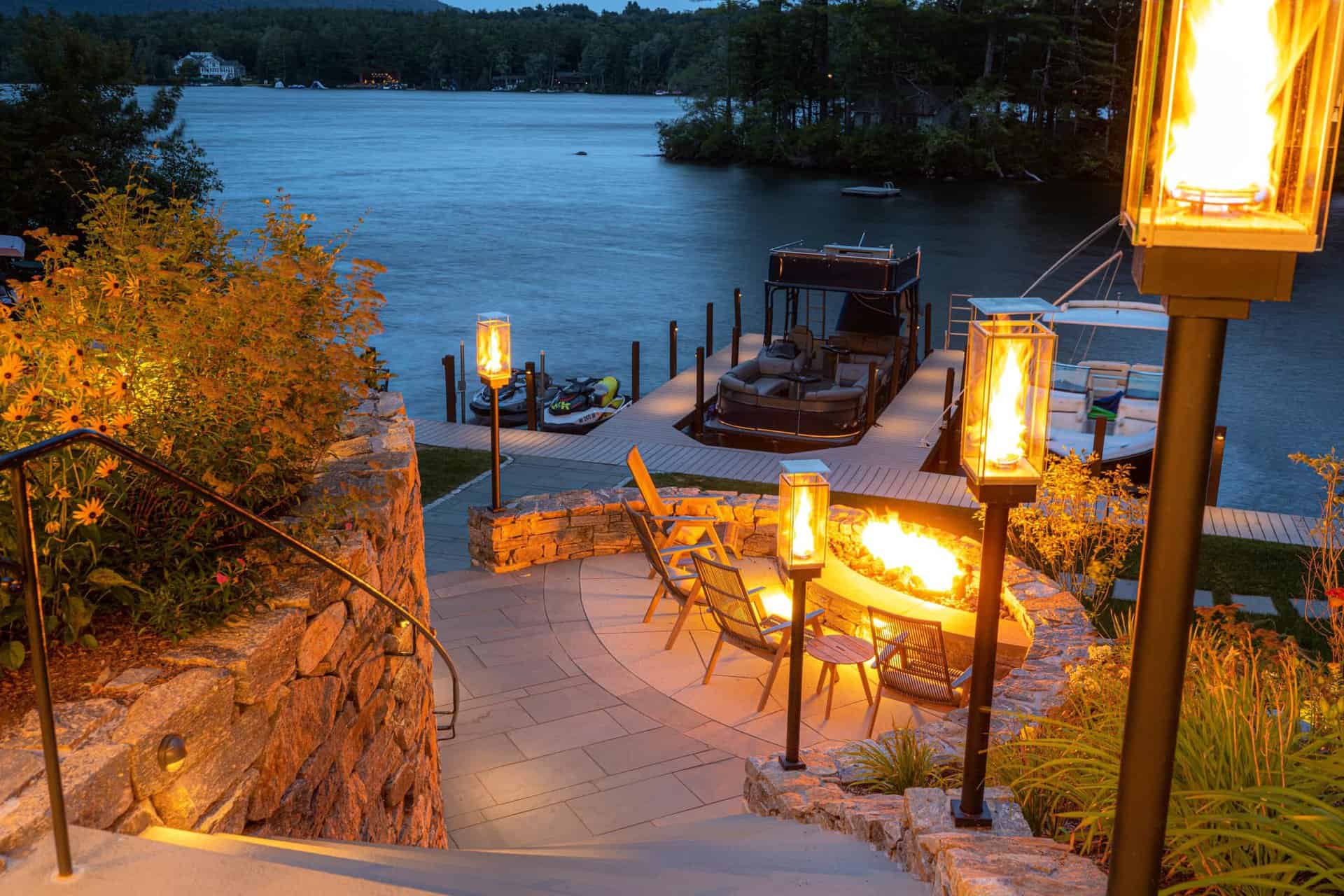 Fireplaces
By matching or complementing existing masonry to your fireplace addition, you'll extend your patio and entertainment space. You can opt for a wood-burning fireplace, or if you already have gas as a heating or cooking element in your house, it's not difficult to have a gas line run outdoors for a fireplace. When installing an outdoor fireplace, just make sure to build one with a large enough chimney to be able to get a good draft for ventilation.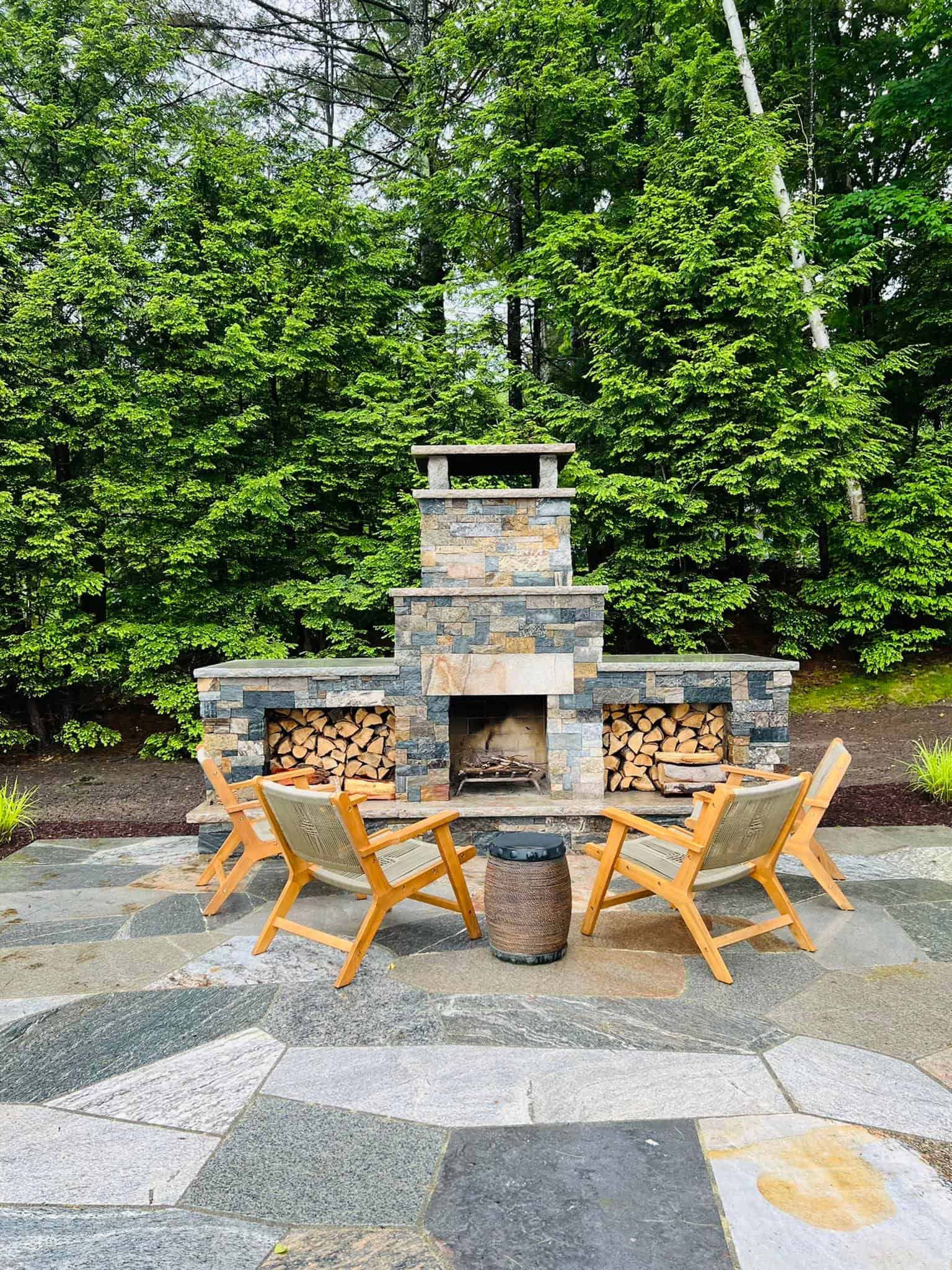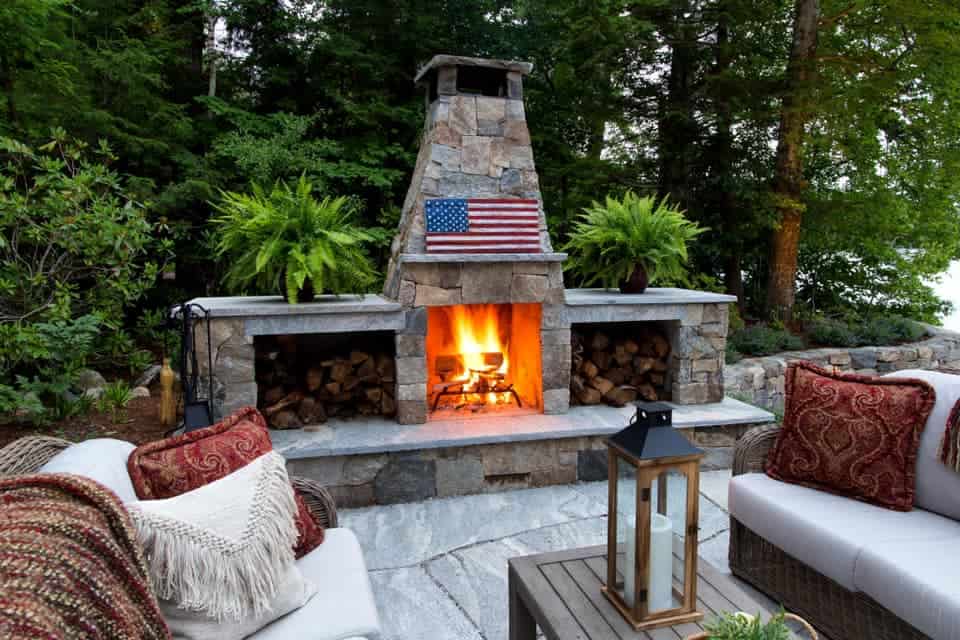 Firepits
Sitting around a fire pit evokes almost the same feelings as gathering around a summer bonfire on the beach or a campfire in the woods. Usually circular or square in design, a fire pit allows people to gather around all sides. Fire pits can be portable or built into patios as a permanent fixture.
Fire pits have several options to fuel their fires. Wood is traditionally used in fire pits and provides a nice flame and heat. With open wood fire pits, wind is a consideration. When placed in a windy location, the smoke produced by traditional wood burning fire pits can shift onto you, your guests, or toward your house at times. Debris and dirt may be more visible, and you may need to drain rainwater from it often. With wood, you'll need to have storage nearby to keep your wood dry.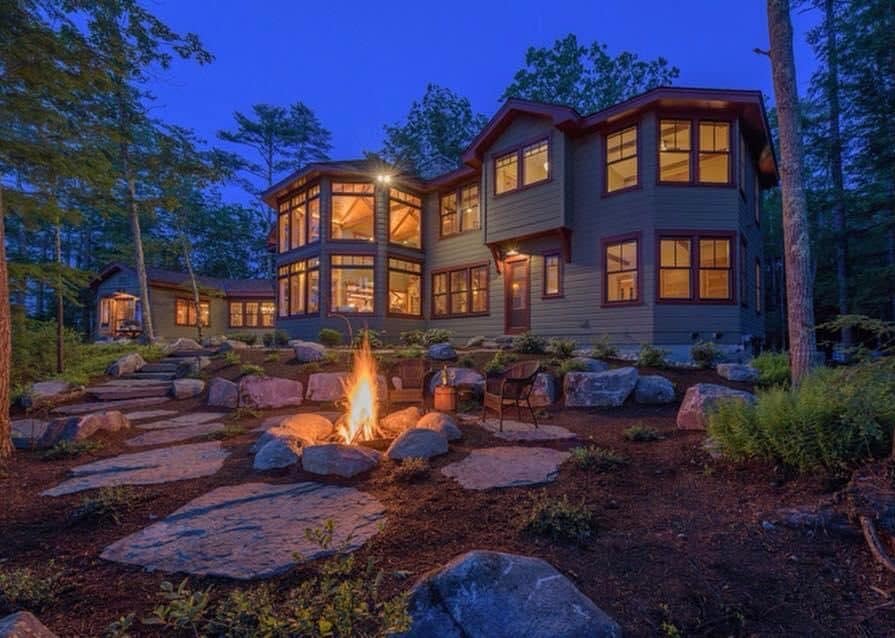 Great Fire Pits
If you are warm to the idea of wood-burning fire pits, there are some smoke-free options. Two companies we recommend are:
Solo Stove: This portable firepit offers a great burn with almost no smoke. It's designed to maximize airflow and has air vents placed in strategic areas. You may get a little smoke when lighting or putting out the fire, but that's about it. The trick is to keep wood below the secondary air vent and not overfill it, then you'll enjoy a great fire without being bothered by smoke.
Their stainless-steel design fits well into any décor and allows for easy cleaning. They also offer a lifetime guarantee from any manufacturing defects. Solo Stove also makes a matching pizza oven.
Breeo fire pits are another company that offers smokeless, portable fire pits. Breeo's pits come in several design, glass, and color options. You can even custom design your fire pit on their website, so it's built to your own specifications. Breeo's fire pits are smokeless due to raised air vents on the bottom of the pit, enabling oxygen to feed the fire regardless of ash build up. Their double-walled build allows hot air to enter from vents at the bottom and escape at holes in the rim at the top. This escaping air causes a secondary ignition of flames, burning off the rising smoke.
Breeo also offers accessories like fireside furniture and implements you can use to cook directly on the flames themselves. As with all fire pits and fireplaces, make sure to clean all debris, drippings, and food particles completely off before relighting the fire.
Other Fuels for Fire Pits
Propane and gas fire pits are other options for fueling fire pits if you don't want to bother with wood. Both gas and propane fire pits have instant ignitions, so you don't have to mess about getting a fire started. And both can be shut down instantly without waiting for flames to die down or embers to cool.
There are no sparks emitted from a gas or propane fireplace, so these types of fire pits can be a safer option. To avoid carbon monoxide build up, both gas and propane fire pits must be used in well-ventilated areas.
We've helped many homeowners add a fire and heating element to their landscapes and outdoor entertainment spaces, and we'd love to help you come up with ideas to incorporate a fireplace or fire pit into your property. Please call us at 603.707.0630 or email us to get started.