You've got a beautiful home, and complementary landscaping which can be enjoyed year-round. How do you showcase these assets? The best way to display your property and surrounding land is to add illumination.
Aesthetic landscape lighting is a wonderful way to accent your home and grounds, provide safety to walkways, entrances and to your property overall, as well as increase the total property value.
With low voltage LED lighting, home illumination systems have become easier to install, use, and maintain. Most systems are custom designed around your particular needs rather than a one-size-fits-all system and are often paired with smart home systems. These systems can be controlled with apps and timers, and can be set for different seasons, and events.
Why Light it Up?
There are several great reasons for adding lighting your home and landscape. First, you'll be able to add visual interest by highlighting architectural features and points of interest in your landscape, like flowering trees or a water feature.
Lighting your outdoor spaces will allow you to enjoy your property longer in the day and into the evening; you won't have to head indoors when the sun sets, and you can use more of your property when it's well illuminated, instead of some areas being dark voids in the periphery.
Security considerations should also be taken into account when contemplating landscape lighting. You can illuminate doors and windows, making it easier for your security system to capture clearer images. Strategic lighting also gives the appearance of someone being home. And, by illuminating pathways and walkways, you can insure safer passage around your property for family and guests alike.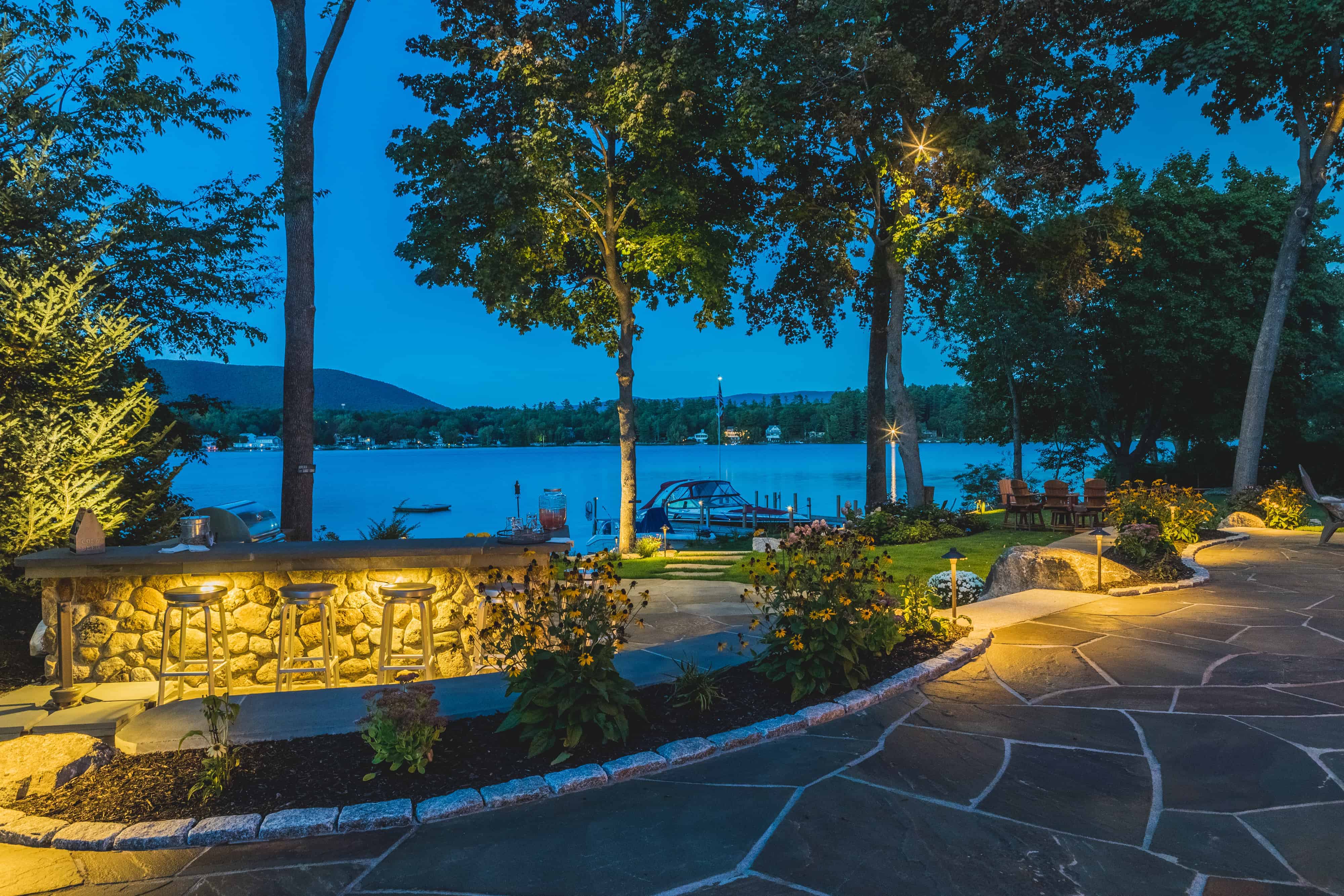 Why Low Voltage LED?
Low voltage LED systems are primarily used in home lighting systems because they're safe and cost-effective. With low voltage systems, there's little chance of shock and the installation is quicker and easier. You can install an LED low voltage system on your own, as it's relatively easy to learn, but for a larger home or a complex system, we suggest hiring a professional installer.
LED fixtures and bulbs use very little power, so the impact on your electricity bill won't be as great with a low voltage LED system. The bulbs also last longer, so you won't have to replace them as often.
LED lights come in a wide variety of colors and lenses, so you can design the lighting that works best for you and your home. The days of hot, bright floodlights are over! You can highlight some areas, have other areas softly illuminated, and of course, dimmers and timers on lights can be installed wherever you deem necessary.
Low voltage LED lights don't get as hot as regular lights, even when they've been on for several hours, so they won't add to the heat during the hot summer nights, nor will they affect any plants you may have surrounding them. And LED lights reduce light pollution, as the light they cast is more focused than regular bulbs.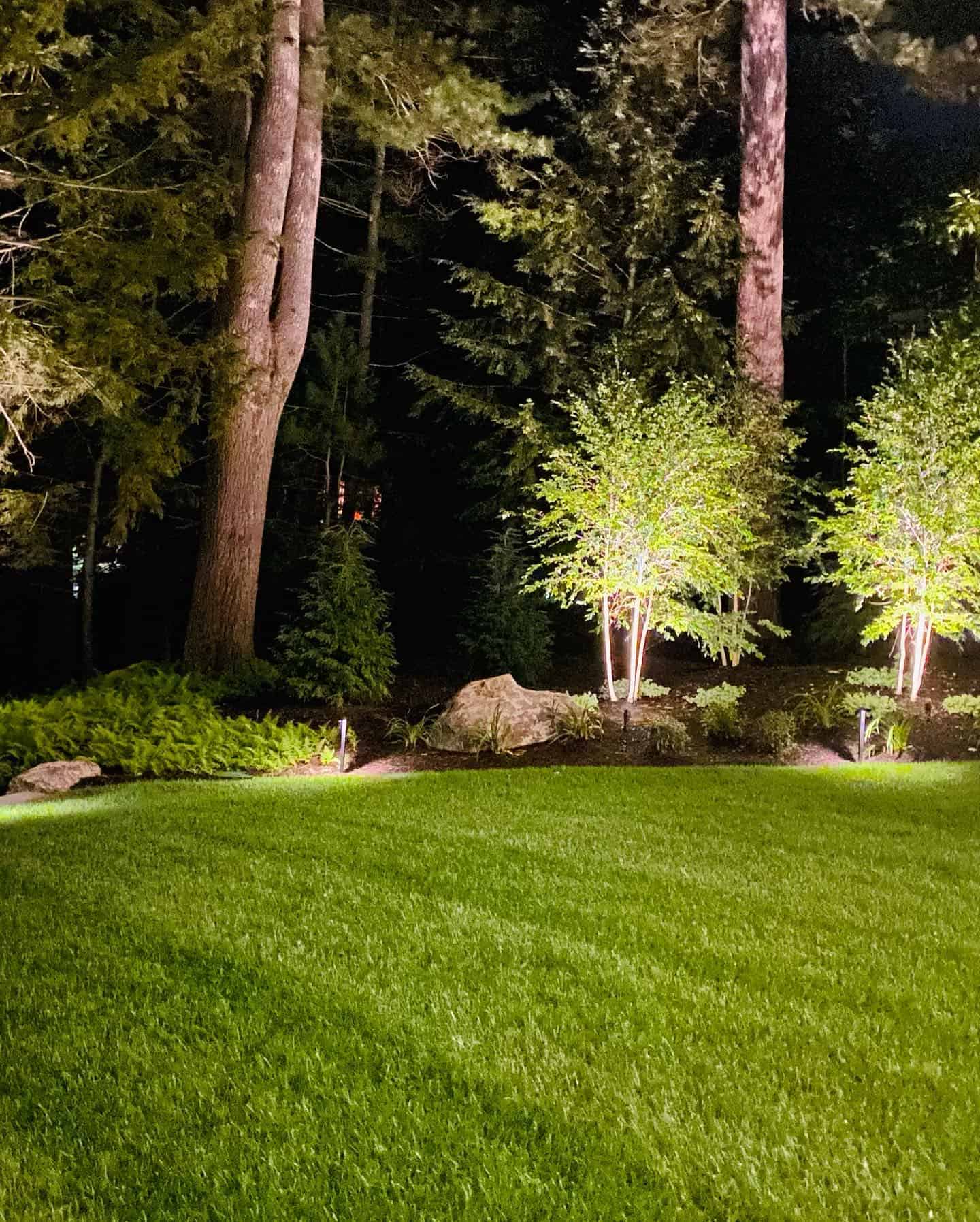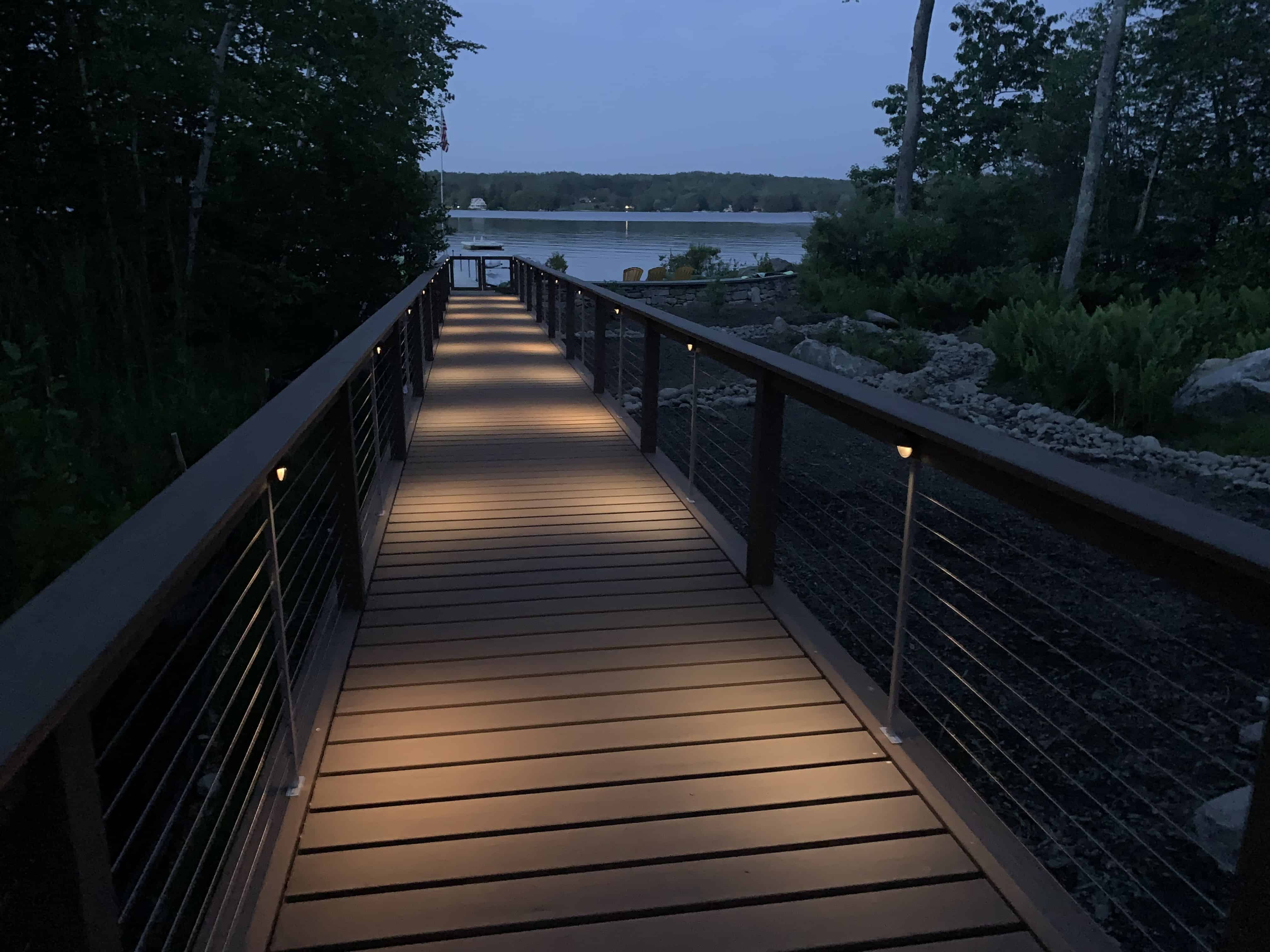 How Should You Get Started?
After deciding to add lighting to your property, the first thing you'll want to do is to create a landscape lighting plan:
First, decide what you want to light or showcase. Include any or all doors, windows, garage doors, pathways, and sidewalks to and from your house. Are there any areas in your yard or landscaping to which you'd like to draw attention? Flowering trees, decorative shrubbery, fountains and water features are popular choices, as are beaches, pools, and retaining walls.
Select the appropriate lighting techniques. Most plans have a good mixture of several techniques. You can: highlight a feature; create shadows; place a light a few feet away to "wash" the object in light; uplight or downlight with more directed beams of light; "moonlight" an area by placing a feature high up in a tree or light pole, and have soft light come down on the area; light up your path with lights running alongside walkways and drives; and place lighting in surfaces themselves, like stone walls or steps.
Choose the fixtures, bulbs and accessories that give you the desired effect. Again, this should be a good combination of several different items customized to your individual needs. Choices include spotlights, path lights, wall mounted lights, lights with motion sensors and/or dimmers, ground lights, and hanging lights.
Connect it to your smart home system and apps and set up a schedule for daily/nightly use, as well as vacations or other times away.
At Stephens Landscaping, we can work with you to create a lighting plan and install low voltage LED lighting systems that will fit your property's needs and unique aesthetic. To get started, give us a call at 603.707.0630 or email info@stephenslandscaping.com.