A container garden is not only functional but also beautiful and adds a touch of aesthetic beauty to your landscape. We'll teach you how to create your own gorgeous fall container gardens here!
Vegetable Container Garden 
Grow delicious organic fall crops in a gourd-geous fall container garden! Showcase your garden yield with a beautiful wooden box filled with fast-growing fall vegetables like ornamental peppers, purple cabbage, green onions, beans, radishes, and beetroot. Throw in some pumpkins and autumn squash, and other rustic accents around the planter to add a touch of fall to your design. Situate your vegetable container garden in an area where it can receive full sunlight for up to six hours a day, and enjoy some delicious organic vegetables pulled straight from your patio at Thanksgiving. 
Vegetable Perennial Mix Garden 
Your container garden doesn't have to be limited to just vegetables. You can grow your favorite fall crops right alongside beautiful fall flowers that will actually benefit the livelihood of your crops! Creating companion plant gardens and pairing crops that like each other in the same container will make your gardening routine easier and help you create beautiful planters. Beans and asparagus like growing with marigolds, potatoes like growing alongside pumpkins and sunflowers, and cauliflower likes growing with nasturtiums! Incorporate some fall-colored leaves into your garden plants to add extra beauty and benefit your crops' soil with organic matter. 
Fall Color Basket Container Garden
You can leave this fall container garden on your front porch well beyond the fall season—it never goes out of style. Vintage farmhouse décor will look great on your outdoor patio or front porch, and it's easy to put together. Fill a straw basket or watering can with seasonal favorites like ornamental peppers and fall-toned pansies like 'Bowles' black pansy, and you'll have a gorgeous container display in no time. 
To incorporate a more modern aesthetic in your color basket, try filling a black cane or metal planter with some bold perennials in shades of red, orange, and brown. Concrete planters also make for great fall container gardens, especially when placed alongside mini pumpkins, straw bales, and outdoor lanterns!  
Blooming Window Box Container Garden 
Fall is the perfect time to fill your window box with mums and spruce up your garden. This blooming window box container garden will make the exterior of your home look picture-perfect. Especially with a flower mix as beautiful as the one we've listed for you to try out here:
'Draga' chrysanthemum

'Bolero' chrysanthemum

'Osaka purple' flowering kale

'Dwarf mondo' ornamental grass 

'Glacier' variegated ivy
You don't have to stick to this combination; these are just a few fall favorites we love. The beauty of fall gardening comes from how many passionate tones and textures you can incorporate into your containers. 
Container Garden Accessories That Make A Statement 
Fall foliage and twigs add a whimsical touch to this container design. Using red dogwood and other decorative branches, you can DIY your own tall-looking gorgeous garden containers on both sides of your front porch. Make your planters more visually appealing by using tall, narrow containers and tall ornamental grasses like pampas grass and feather reed grass. Elevating your front porch game has never been so easy!
Pumpkin Container Gardens for Moultonborough
Pumpkins are a magical way to incorporate fall into your container garden. With this funky design, you can even use the pumpkin as a container! Simply cut a hole in a pumpkin, clean the guts out (better yet, get your kids to do it for you), and fill your pumpkin with a gorgeous fall plant pulled straight from the pot with its soil and roots. 
How To Include Pumpkins In Your Planters 
It's hard not to love mini pumpkins during the fall season. You can add a touch of autumn to even the smallest of places with these ideas:
Place pumpkins on a trellis alongside your planters

Set pumpkins on your porch steps 

Stack them on top of each other according to size

Paint them modern colors that complement the colorful plants inside. Add a cute touch by painting your family's name or house number on the pumpkin!

Create a jack-o-lantern for your front porch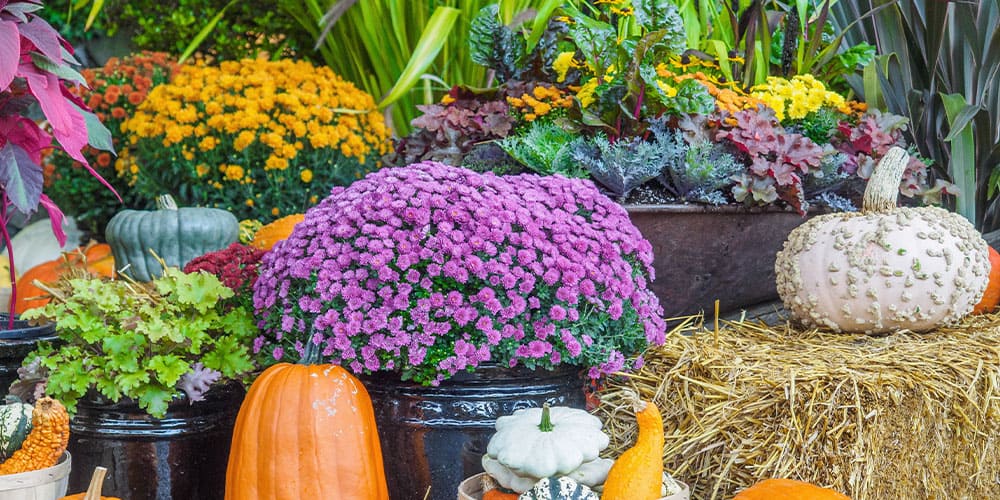 Some people think gardening is over when the fall season arrives, but really it's just begun. Visit us at Stephens Landscaping Garden Center in Moultonborough, New Hampshire, today to learn more about how to elevate your front porch with some beautiful fall container gardening designs. Don't forget to follow us on Facebook or Instagram for updates!