The end of the growing season in New Hampshire doesn't mean the end of beautiful planters. On the contrary, holiday planters are the perfect way to decorate your porch this Christmas and beyond. The weather may be too frosty for flowers, but we can still make fabulous seasonal arrangements using evergreen boughs, berries, bells, ribbons, and more—here are some ideas!
Materials for a Holiday Porch Pot 
While you won't have much success planting annual flowers this time of year, we can look to our winter landscape for a world of new inspiration.
Berries: Whoever came up with red and green as Christmas colors was likely borrowing from the natural world around them. Red berries stand out amidst the snow and add an incredible pop of color to arrangements, especially winterberries, holly, and rosehips.
Evergreen Branches: As the most vibrant part of our winterscape, make every opportunity to use cuttings from any evergreens on your property in your porch pots. These include junipers, cedars, spruce, firs, pines, and hemlock. 
Pine Cones: Pine cones are like ready-made decorations waiting to be used in holiday decor. Technically the flower of pine trees, they bring rich brown tones and beautiful texture to any porch pot. 
Deciduous Twigs: Dogwoods, birch, and willow branches will bring beautiful white, gold, red, and green colors to your planter. Feel free to use either small branch clippings or even whole sawn-off logs, as you'll see below. If you don't have access to any of these trees, use any deciduous branches available for a similar result. 
Dried Flowers and Seed Pods: While you don't want to create an autumn look with too many dried flowers, hydrangea blossoms and lilac seeds are good options for holiday porch planters, as they maintain their shape quite well. Feel free to experiment with any other dried flowers or seeds found in your yard.
Ribbons, Bells, and Balls: What would a holiday planter be without a few bells, Christmas balls, and ribbons to grace the porch? They mimic the radiant reflections of the snow and bring beautiful finishing touches to a winter planter.  
How to Design a Holiday Porch Pot 
Thriller, Filler, Spiller: This famous design technique is just as valuable during the winter as it is in the spring or summer. As a reminder, the "thriller" is the focal point that catches your attention—in this case, any tall branches or brightly colored decor. The "filler" fills in the space around the thriller with greenery, namely evergreen boughs. The "spillers" are plants that hang over the sides of the pot, hiding the edge and creating a look of overflowing abundance. Any flexible evergreens work as great spillers during the winter.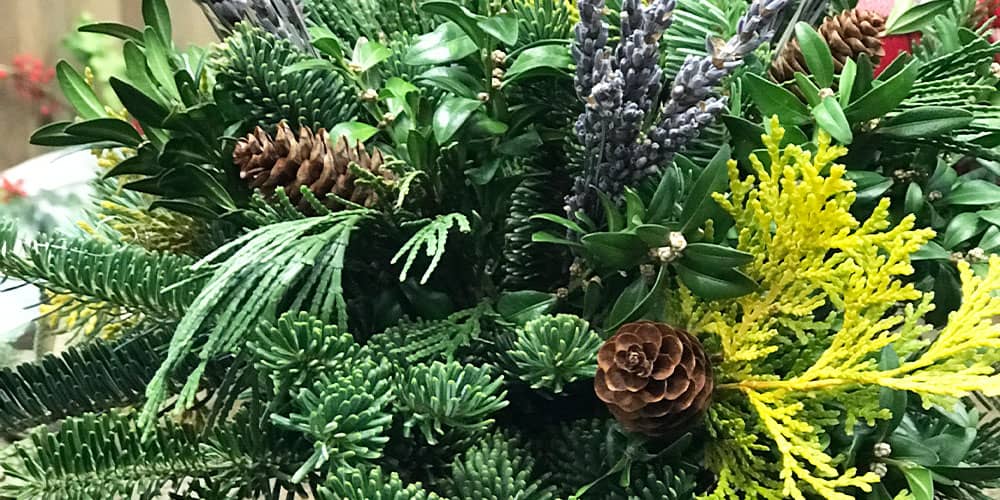 A Look of Abundance: The holiday season is a time of abundance when we share our gifts with the people around us. Likewise, the most impressive porch pots have a sense of grandeur, so don't hesitate to fill in your planters with ample evergreen boughs, ribbons, pine cones, and more! 
A Play of Textures: How can you make a planter look unique when it's mostly evergreens? The key is to play with different textures. Contrast your soft junipers with lively spruce, or your smooth firs with sprightly pines. Juxtapose peeling paper birch with silky ribbons, and let your rugged pine cones mingle with glowing winterberries.  
Great Holiday Porch Pot Ideas to Start With 
Need some ideas for bringing these materials and techniques together? Here are a few designs to get you started: 
Birch Logs, Holly and Juniper 
For your thriller, place three vertical, 1-2″ birch logs in the center and back of your pot of soil. Next, fill in upright boughs of spruce around your birch logs, and place overhanging boughs of juniper around the entire front edge and sides of the planter. As a finishing touch, arrange several twigs of bright red holly berries in front of the birch logs and insert a large red ribbon to hang over the front.           
Dogwood, Christmas Balls, and Pine Cones
Begin by placing several tall twigs of dogwood or willow at the center-back of the pot. Next, place juniper or cedar around the front and sides of the pot as both the spiller and filler. Finally, nestle three large decorative red balls in the center of the junipers and, as a finishing touch, place pine cones around them.     
Final Step: Once you have your arrangement in place, water the entire pot to freeze the soil and keep the boughs in place.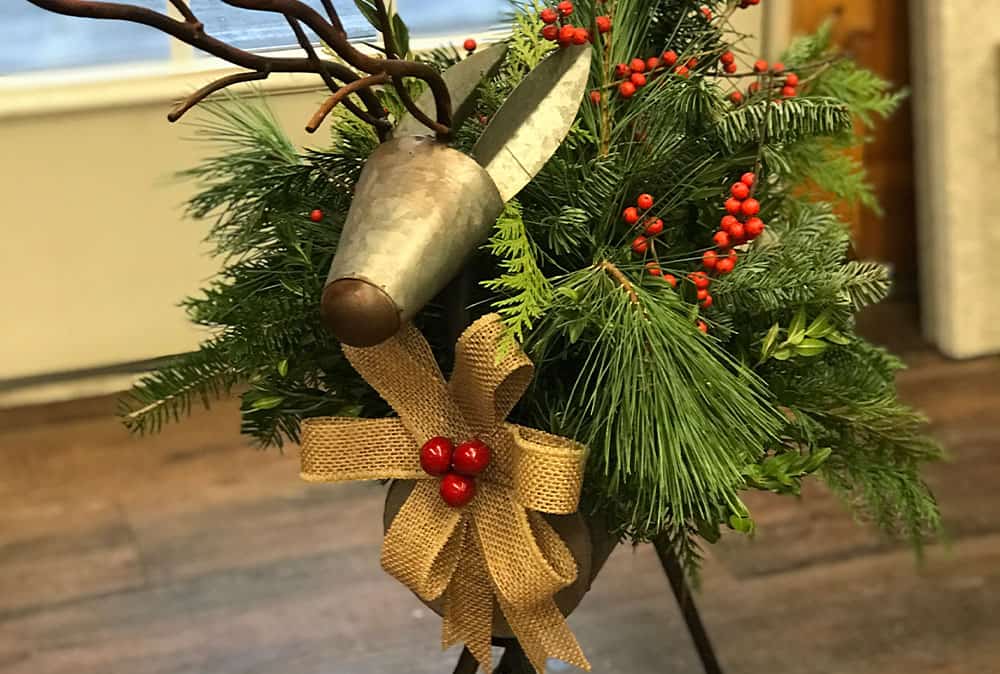 At the end of the day, holiday porch planters are all about creating seasonal art pieces, which means there's a lot of room to experiment and play. Now that you know the basic steps, materials, and philosophy, feel free to experiment while making your own. 
For any supplies for your holiday porch pot ideas, please visit our garden center in Moultonborough, NH! Follow us on Facebook or Instagram for updates and featured products!