Adding a deck to your property is a great way to maximize your outdoor living space. If you live beside a body of water, you'll probably want to a dock so you can moor your boat, jet ski, or other watercraft. Or, perhaps the deck or dock you already have is beginning to show its age and needs to be repaired or replaced. What kind of deck or dock should you build,  and which material should you choose? In this blog, we'll run down the differences in these materials to help you make an informed choice for what's best for you and your property.
Wood
Wood has been the chosen building material for both decks and docks for many years. People often prefer the classic look of well-maintained decks and docks. A wooden deck or dock that's cared for has a life expectancy of about 20 years.
Things to remember if you are thinking about using wood in your build is that wood must be re-stained every couple of years and resealed every year or so. Eventually, wood will rot, warp, and accumulate some insect damage over the years. Wood is also subject to splintering as it dries, so that is a consideration if you or your kids and grandkids like to go barefoot in the summer.
You could use a hardwood instead of pressure treated lumber for your deck or dock. These woods are more resistant to rot, mold, and algae. Ipe wood, for example, is more durable and has a longer lifespan than softer woods like pine or cedar (50-75 years as opposed to 20 years).
However, these kinds of woods are more expensive and decks and docks made from these kinds of hardwoods must be cleaned and oiled regularly (ideally once a year) to keep their beautiful graining, or they will fade quickly and lose their color. Make sure to use oils that reduce slipperiness.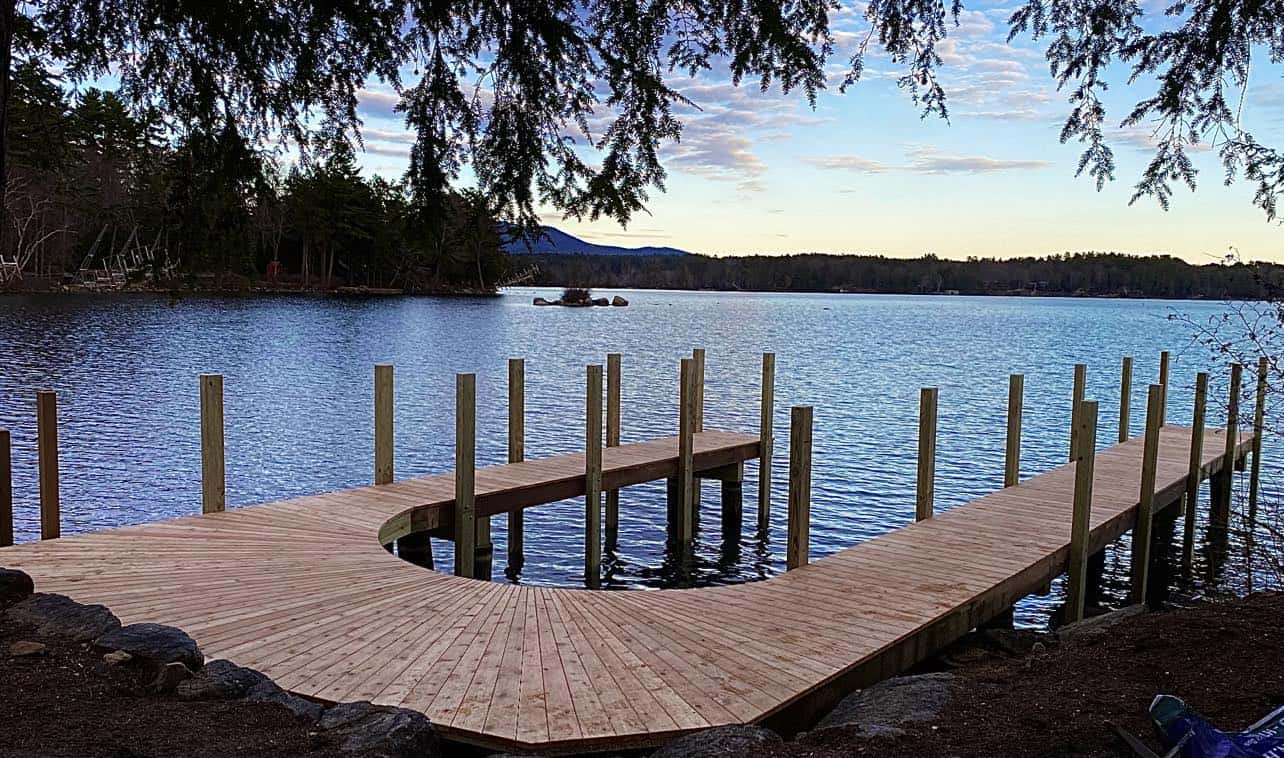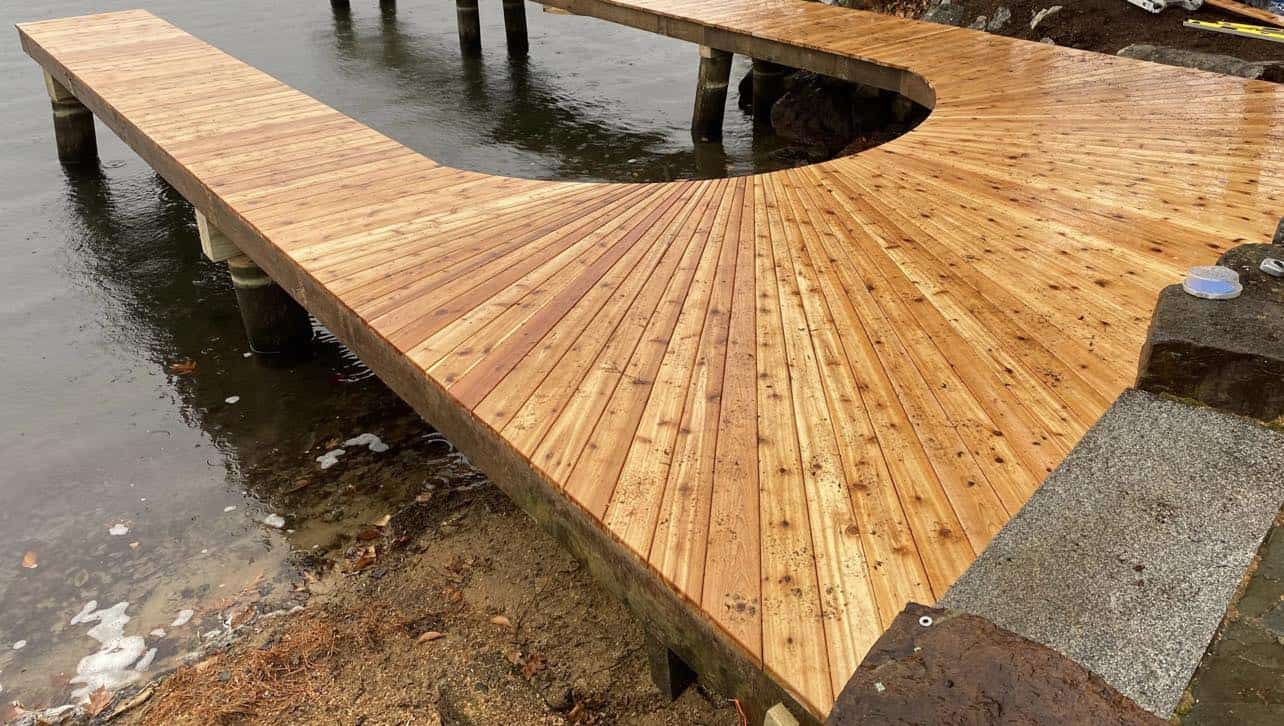 Composite
Composite decking materials are made up of a sustainable variety of recycled substances, usually a mix of natural and synthetic materials like wood fiber, plastics, and other additives such as fiberglass or polyethylene. Composite boards are made to look like wood, and are produced in standard timber widths and lengths. These boards are available a variety of colors and wood grain patterns.
These composite decking/dock materials are easy to maintain and do not ever need to be painted, sealed, or stained; just give them a power wash occasionally, and they will look like new. Composite boards will not splinter, rot, or be eaten by insects, and are good at withstanding stains. They are built to have UV resistance, so fading is diminished. A composite deck/dock will last about 50 years.
Composite deck materials are a bit pricier than wood, but as lumber prices have increased, the gap between the pricing of wood and composite is getting smaller.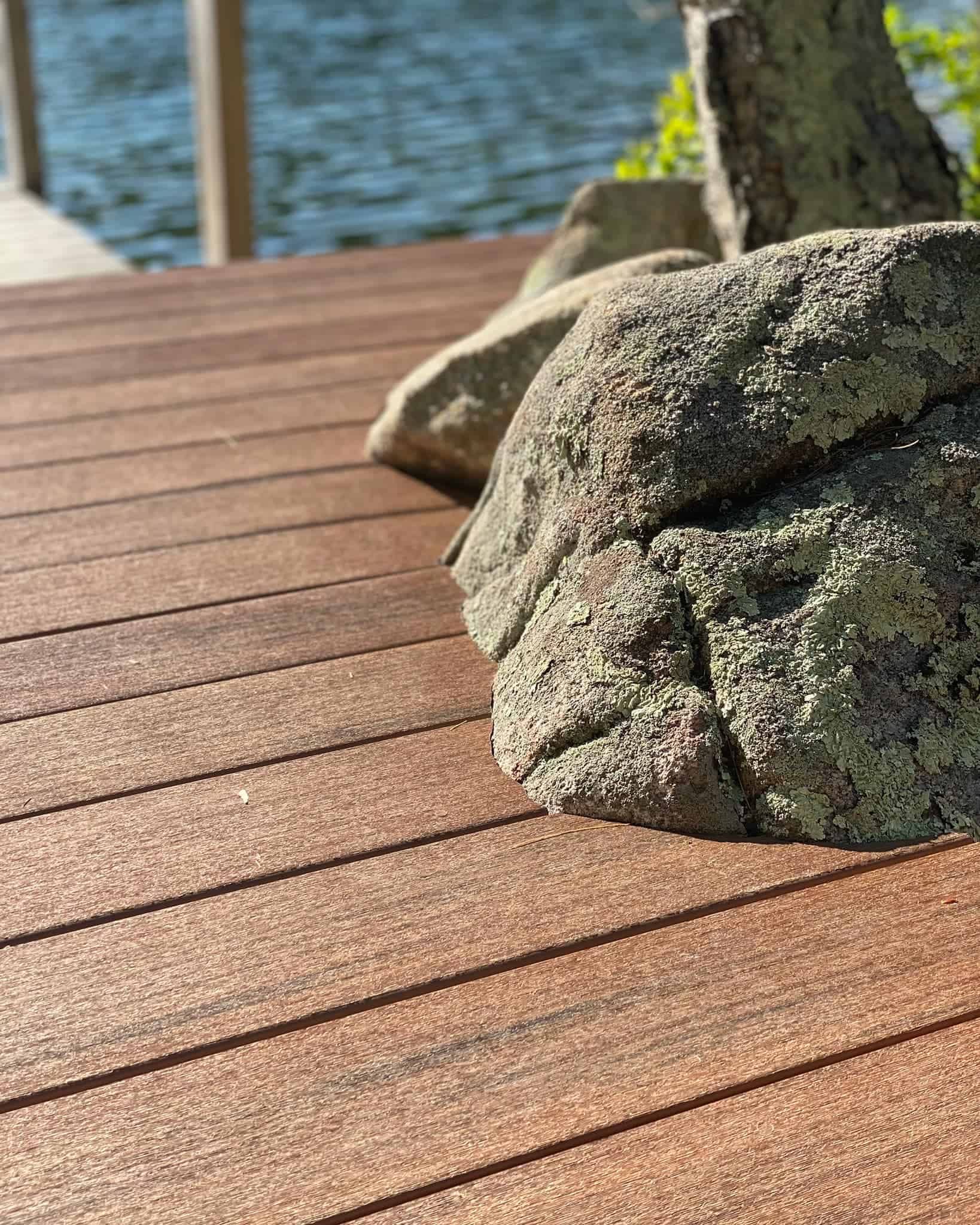 Composite for Docks
If you are considering composite decking for your dock, you should check out composite boards made specifically for marine environments.
There are companies who manufacture composite planks especially for wet environments like docks and marinas, and whose materials can be used over and underwater without fear of damage from warping, rotting, or swelling. These boards offer virtually no water absorption and will not be damaged by insects. Boards stay cool on hot days and are slip resistant to add more safety around the water. (These boards would be great to use around a pool, too!)
These are our top materials from which to choose when building or repairing your deck or dock. Which one would work best for your property depends on your needs, installation environment, budget, and how much maintenance and upkeep would be necessary to keep your deck or dock in the best shape.
We've helped homeowners decide, design, and build decks and docks to make the most of their outdoor spaces for increased property value and enjoyment. We'd love to help you with what's the right choice for your property and lifestyle. Please call us at 603.707.0630 or email us to get started.