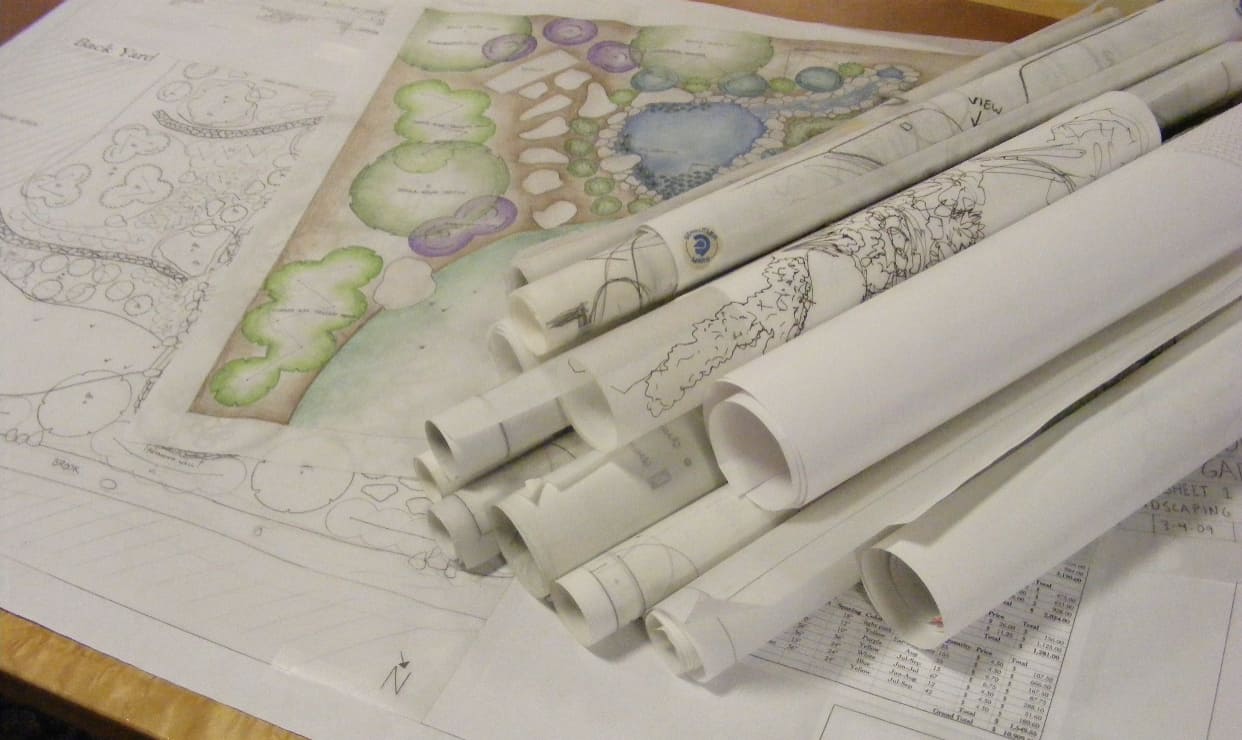 Thinking about updating outdoor spaces at your home or business? Whether it's plantings, adding a small patio, or a complete transformation of your property, there are many benefits to using a professional design service rather than doing it yourself.
Expertise. Depending on where your property sits, there can be a lot of rules and regulations related to what can be built, if trees can be taken down, what can be planted, and so on. This is especially true for waterfront properties which have specific setbacks and required permits. At Stephens Landscaping, we've worked throughout the Lakes Region and surrounding areas and know the New Hampshire state and local regulations. We complete the design and permitting process in-house, saving you time and frustration.
Vision. With years of experience behind us, we know what is possible and what amazing features we can incorporate into a space. During the Schematic Design Process, we talk with you about your wants and needs for your landscape, and propose new ideas. From there, we will work together to create the project of your dreams using creative and cohesive design solutions to achieve project goals and objectives.
Budget. While some may have an idea of budget for their landscape renovations, others may not know the costs that come with extensive enhancements to any outdoor space. By using a design | build firm like SLP, we provide you with a rough cost budget from the beginning of the design process to help you prioritize what landscape enhancements might be most important to you. Since we are your one point contact, our design | build team is able to value engineer your project and offer material options to balance your budget with design goals.
Problem Solving. If you've had issues with run-off, wind damage, or finding the right plants to survive in your yard, we can help. We have many years of experience analyzing and solving problems that are unique to every property. We can help create solutions to the issues that have been plaguing your landscape.
Quality. The quality of our work speaks for itself — browse our Portfolio to see recent projects brought to life. We use quality natural and manmade materials as well as the best plants from the SL Garden Center to make sure that everything will thrive. Our staff are committed to providing you with quality craftsmanship on every project. A landscape by Stephens Landscaping is built to last.
Reliability. We come highly recommended and have a full and professional staff with many years of experience. Our team includes designated account managers, full-time landscape architect & permitter, design | build project managers, administrative staff, and uniformed field staff. We pride ourselves on our professionally maintained equipment, proactive communication, weekly project updates, scheduled property inspections, monthly invoicing, and 24-hour phone service. You can depend on us to always be professional and communicative.
Speed. Since our work is managed in-house, there is minimal wait time for coordination between different companies or contractors. Our dedicated team is efficient and will get your project done in a timely manner so you have more time to enjoy your property.
Less Stress. By working with Stephens Landscaping, we will coordinate everything for you. We manage the work in-house, including design, permitting, site work, hardscape planning, carpentry, irrigation, lighting, planting, and maintenance. We're a one-stop shop to take care of all your landscape needs so all you have to do is sit back and enjoy.
Increase Property Value. Having a cohesive, well executed design for your yard can increase your property value and curb appeal. Invest in your landscape and it will add to your assets. Curious about the value of your property? Reach out to the professionals at Lake Life Realty for a competitive market analysis (CMA) and guidance on what improvements to your property will result in the biggest return on your investment.
Whether you're thinking about updating your home or business landscaping, Stephens Landscaping would love to help. First impressions are lasting ones — let us help you make an amazing and impressive first impression with your landscaping by contacting us today.