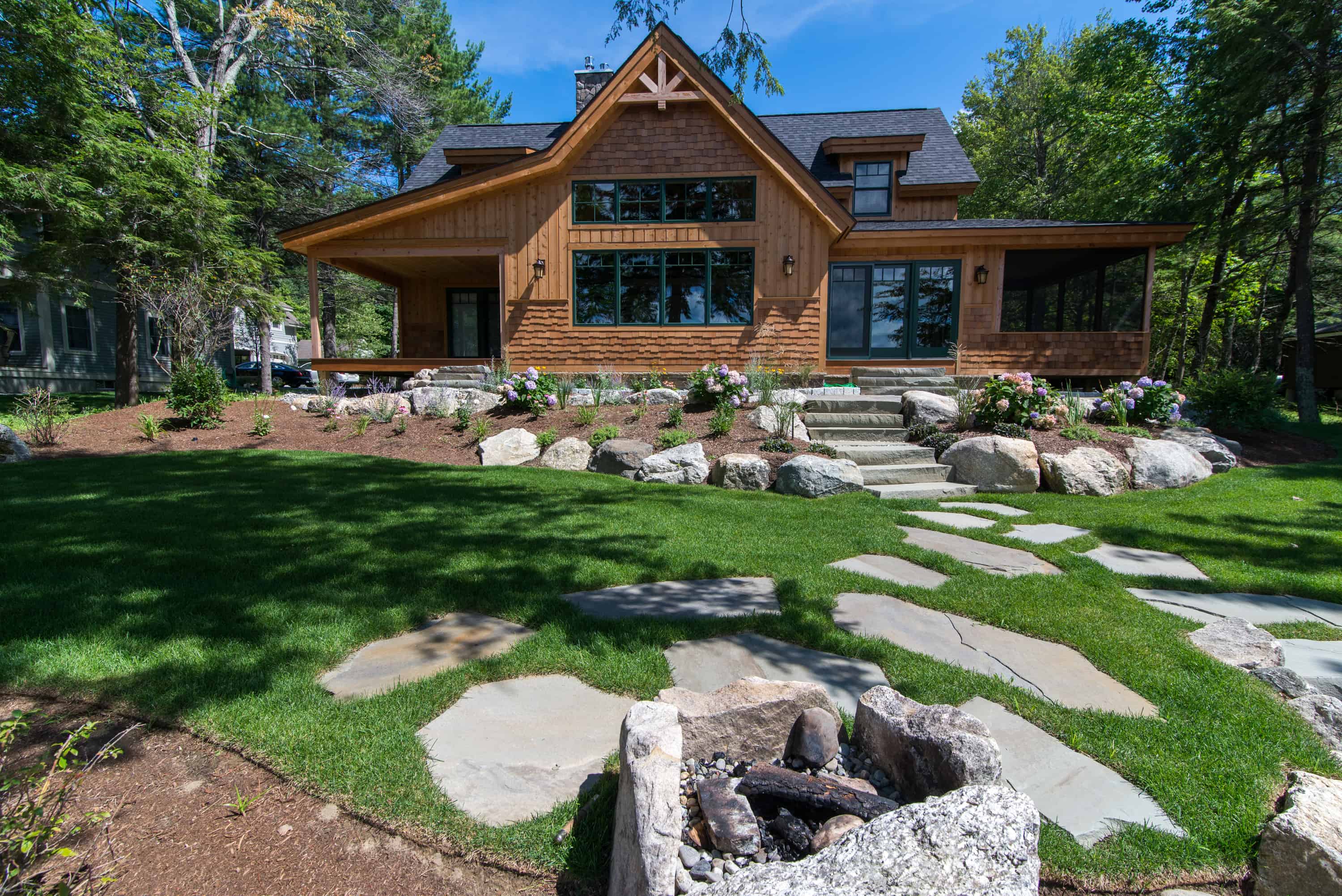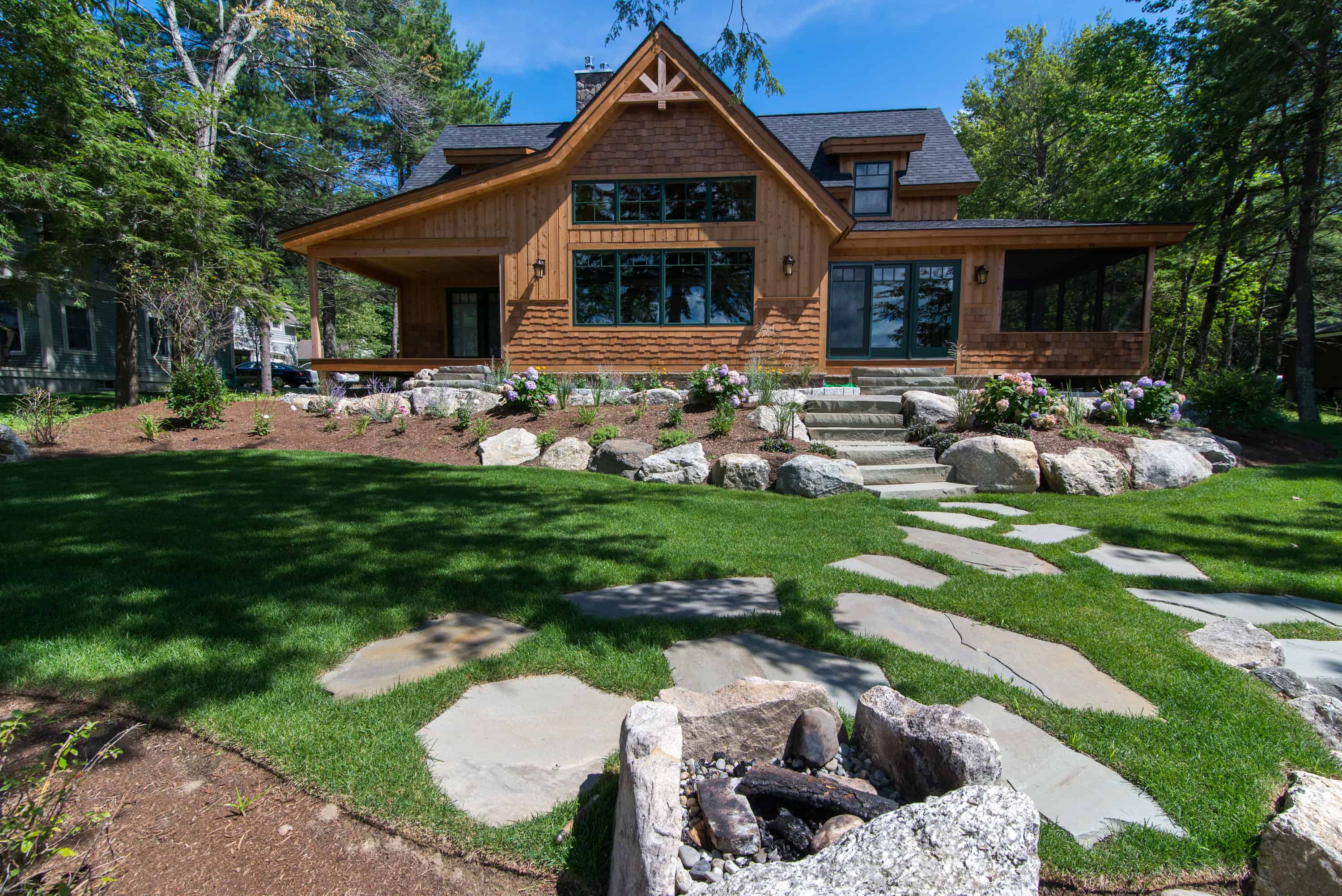 Mid to late April is the perfect time in the Lakes Region to begin prepping your lake house lawn for spring.  During the summer months, lakefront lawns take a lot of abuse, especially during busy holiday weekends, like the 4th of July.  In addition to increasing temperatures, lawns can suffer due to drought, lack of nutrients and increased foot traffic.  Beginning your lawn preparation in the early spring when the weather and ground conditions allow it is essential to making sure your lawn is prepared for the rigors of summer at the lake.
Spring Clean-up of Your Lake Winnipesaukee Lawn
A thorough spring clean-up of your entire property is the first step in preparing your lawn.  This includes picking up any sticks, branches and leaves that may have been missed during the fall-clean up.  It is very important that the entire property be cleaned and a buffer be created between your manicured landscape and any woodland area.  Unkept, less manicured areas are more likely to harbor pests and insects that can be harmful to your landscape.
Scout your entire property for any bugs, insects or pests that can pose a threat to your lawn.  This includes visible mole, vole or chipmunk damage.  If you encounter any of these threats, it is best to contact a professional.
Prune trees and shrubs that were not part of your fall or winter pruning schedule.  Unkept trees and shrubs can shade out turf areas or lead to future debris that can be harmful to your turf.  If you are unsure of the pruning requirements or timing of certain trees or shrubs, there are plenty of resources available to you, or you can hire a professional.
Perform a soil test.  Knowing your soil pH and macro and micro nutrient levels will help you to determine exactly what your lawn needs.
Lawn Care for Your Lake Winnipesaukee Lawn
Repairing winter damage with a good loam and compost soil mix and a grass seed mix of Fescues and Kentucky Blue Grass is an important step to getting your lawn on its way to mid-summer form.  It is important that you wait until the ground is warm enough to support the seed, but before consistent hot weather arrives.  The month of May is usually a safe bet in New Hampshire.
Dethatch your lawn to remove dead grass roots and stems to ensure that nutrients, water and sunlight can penetrate the soil.  If your lawn was installed late in the previous season it is likely that it is too tender for this service and it should be delayed for at least another season.
Aeration is typically performed in the fall, but if you notice dead spots or water logged spots, where compaction may be the cause, aeration is a great way to break up the soil and prepare it for seed.
Mulch garden beds to help suppress weeds.  Open soil areas are hotspots for weeds that can easily spread into your lawn area.
Put down a good pre-emergent to slow the growth of crab grass and weeds.  It is important to do this as early in the spring as possible before crabgrass and weeds are present.  If you are going to try and grow new grass it is important that you time this properly.
Get a regularly scheduled fertilization plan.   It is important to remember the 25′ setback line when applying fertilizer around the lake.  A green lawn is important, but not as important to the value of your property as clear, clean water.
Making sure your lawn is properly hydrated, mowed at the proper height and routinely fertilized are the best ways to make sure that your lawn is healthy and free of weeds.
Lawn Irrigation For Your Lake Winnipesaukee Lawn
Start and test your irrigation system once your lawn is dry.  Make sure that all your sprinkler heads are operating properly with the correct coverage and watering schedule for early season watering.  If you do not have a smart irrigation controller, and mother nature is providing plenty of April showers, you should leave your irrigation controller in the off position until supplemental water is needed.  Your irrigation schedule will need to be adjusted throughout the summer season to meet current watering demands.
Most lakefront landscapes use a shallow well pump or a jet pump to draw water off of the lake.  It is important to make sure that your suction line is equipped with a micron filter.  When drawing off of the lake, the chances of pulling in debris that can clog the pump, valves and sprinkler heads is likely.
Sign up for an irrigation plan that includes ongoing monitoring.  Two check-ups during the summer should be sufficient.  This is important because watering needs change, landscapes change and maintenance to the system may be required.
Be Sure to Consider Time and Budget
As with anything, when determining your landscape maintenance needs, you must consider the time and budget that you have available.  For many second homeowners the benefit of hiring a landscape contractor to perform maintenance services outweighs the financial investment and the time spent doing it themselves.  This is because time at the lake is precious and many homeowners prefer to spend this time relaxing, enjoying water sports, and with family.  It is important that any service agreement for maintenance services be detailed and that there is a clear expectation for work to be performed.