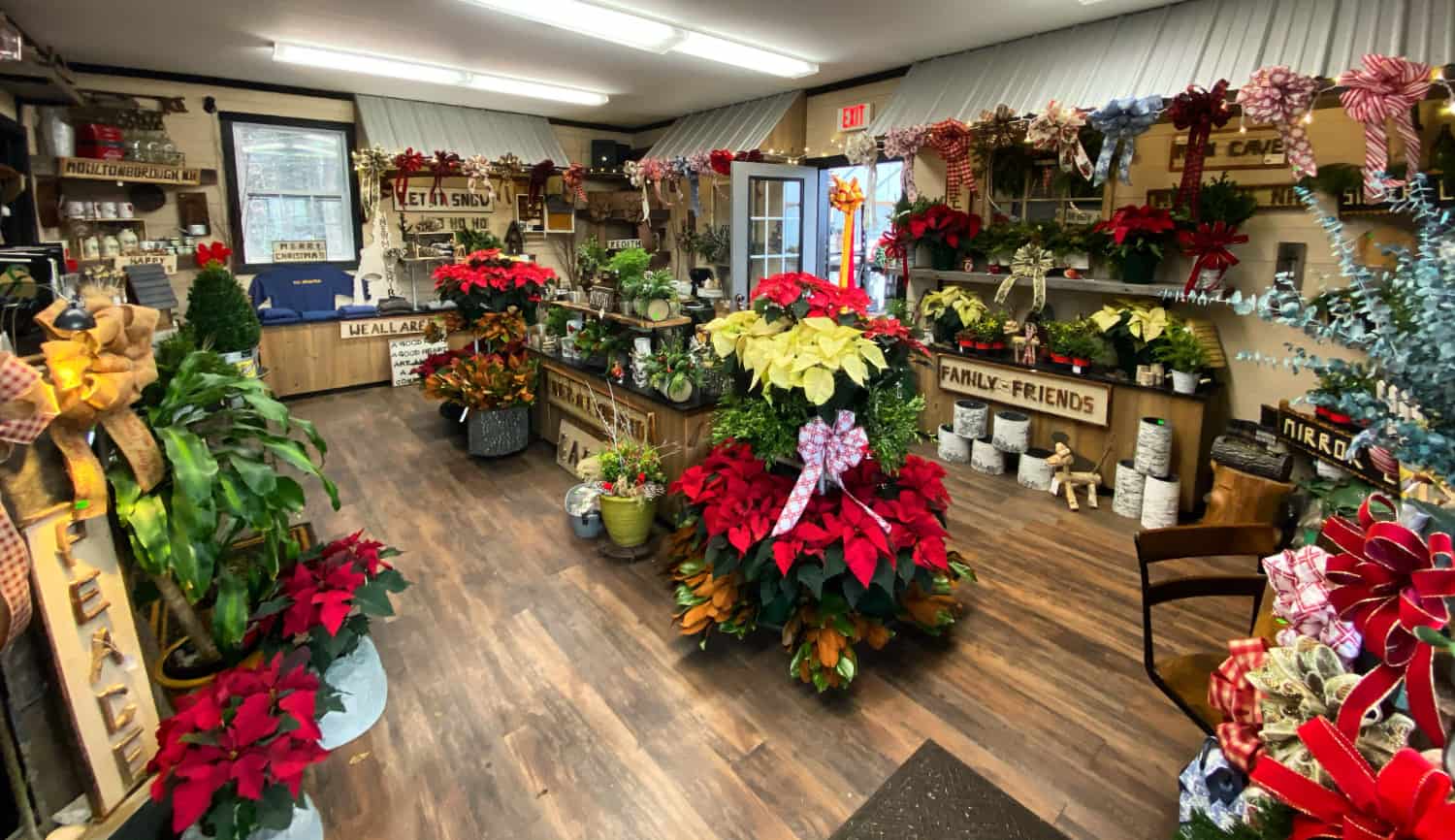 Poinsettias are a classic plant choice for decorating your home or business for the holiday season. We have plenty to choose from here at the Stephens Landscaping Garden Center. Poinsettias are easy to care for and their vibrant foliage add the perfect finishing touch for any room. We have many different sizes and colors of Poinsettia to choose from, including classic red, white, pink, and variegated varieties in many different sizes.
Here are some tips to consider to help keep your Poinsettias looking their best:
Choose plants that are healthy to begin with. All of our plants are expertly cared for and will start you off on the right foot.
While they've become synonymous with Christmas and winter, poinsettias actually originate from Mexico and prefer a warm, sunny spot in your home. They are strictly houseplants and won't tolerate our chilly New Hampshire winter outside.
Use room temperature water when watering your plants; never use hot or cold water.
Make sure not to overwater your plant. Poinsettias do not survive excessive water. An easy way to check if it needs water is to lift the plant and if it feels light, it's due for a watering.
When in doubt on whether to water your poinsettia or not it's better to keep them a little on the drier side rather than too wet. If the roots get too wet it can encourage root rot. Alternatively, if you see yellowing leaves then that probably means your plant is too dry and is in need of water. If your house is dry—from using a wood stove, for instance—you may need to water your poinsettia more frequently. Remember: a little water at a time, never a soaking.
Poinsettias are happiest in a southern-facing window but will do well in any draft-free area that gets good sunlight.
Poinsettias can make nice cut flowers for flower arrangements, too.
No need to toss your Poinsettia at the end of the season. You can keep it year-round and even get it to re-flower for the following year's holidays. In order to time the bloom correctly, the plant needs to be cut back in the spring, then "forced" with 12-hour light/dark cycles starting in mid-October to get it to bloom at the correct time. If you're interested in trying to get your poinsettia to re-flower next year, we'd be happy to explain the process the next time you swing by our Garden Center.
Fun Fact: Did you know that the large "flowers" on Poinsettias aren't really flowers? They're actually colorful, red leaves called Bracts. The real flowers are the tiny yellow structures found in the center of each leaf bunch.
Poinsettias make wonderful hostess, neighbor, and teacher gifts. Contact us today to see how we can help you pick out the perfect plant for your needs at our Garden Center located at 63 Whittier Highway in Moultonborough, NH 03254. We also carry a wide variety of house plants, centerpieces, Christmas trees, wreaths, gifts, and decor items to make decorating your home and shopping for the holidays easy.