Hot weather has come to New England, and we, of course, want to spend as much time as possible outdoors. And we certainly don't want to heat up our kitchens and our houses while we cook. A great way to remain part of the summer fun and help beat the summer heat is to install an outdoor kitchen.
Outdoor kitchens have progressed beyond having a BBQ grill and mini fridge tucked away in the corner of the yard; many standard kitchen appliances are available in models that can be installed outdoors, so you can customize and design a kitchen that will truly fit your family's needs and your home's space and décor. Adding a beautiful and well-equipped kitchen greatly increases a property's value; some homes have seen a return on investment of 100%-200%.
Create a Plan
Once you've decided an outdoor kitchen is right for you, you need to start by figuring out what you primarily want to do in this kitchen. It's easy to get carried away while dreaming and designing, and as with every renovation, the costs can add up quickly.
Think about how your family eats, and how much you entertain. Will you need a brick pizza oven, or will a steel one do? Or do you need a pizza oven at all? Will you need taps in your wet bar, or will a built-in ice chest for chilling beverages suffice? A large grill is great, but will you need a roasting spit? Do you need a small grill or fridge, or larger ones?
There are so many appliance choices available, so taking time to think about how you use your outdoor space is really the best first step. You can fill your shopping list with "must haves" from there.
Choose a location
Think of an outdoor kitchen as an extension of your indoor kitchen. It should be located close to your indoor kitchen, if possible, to make the inevitable trips indoors to grab ingredients, pots and pans, etc., easier on the chef. The kitchen should be designed to keep the chef part of the outdoor activities, so as you're choosing your location, allow space for seating in and around the kitchen area itself.
Consider how this kitchen will fit into your décor. Ideally, you'll want this kitchen to be built with any stonework that already exists around your home, so you can match or complement the patio tiles or wall masonry. Will you be able to extend your roofline to cover this kitchen, or would you prefer this kitchen to be under an awning or located in a pergola or separate structure? The kitchen's location would be best situated in a spot that's at least partially shaded and away from the wind, to make it a comfortable spot for cooking, eating, and entertaining.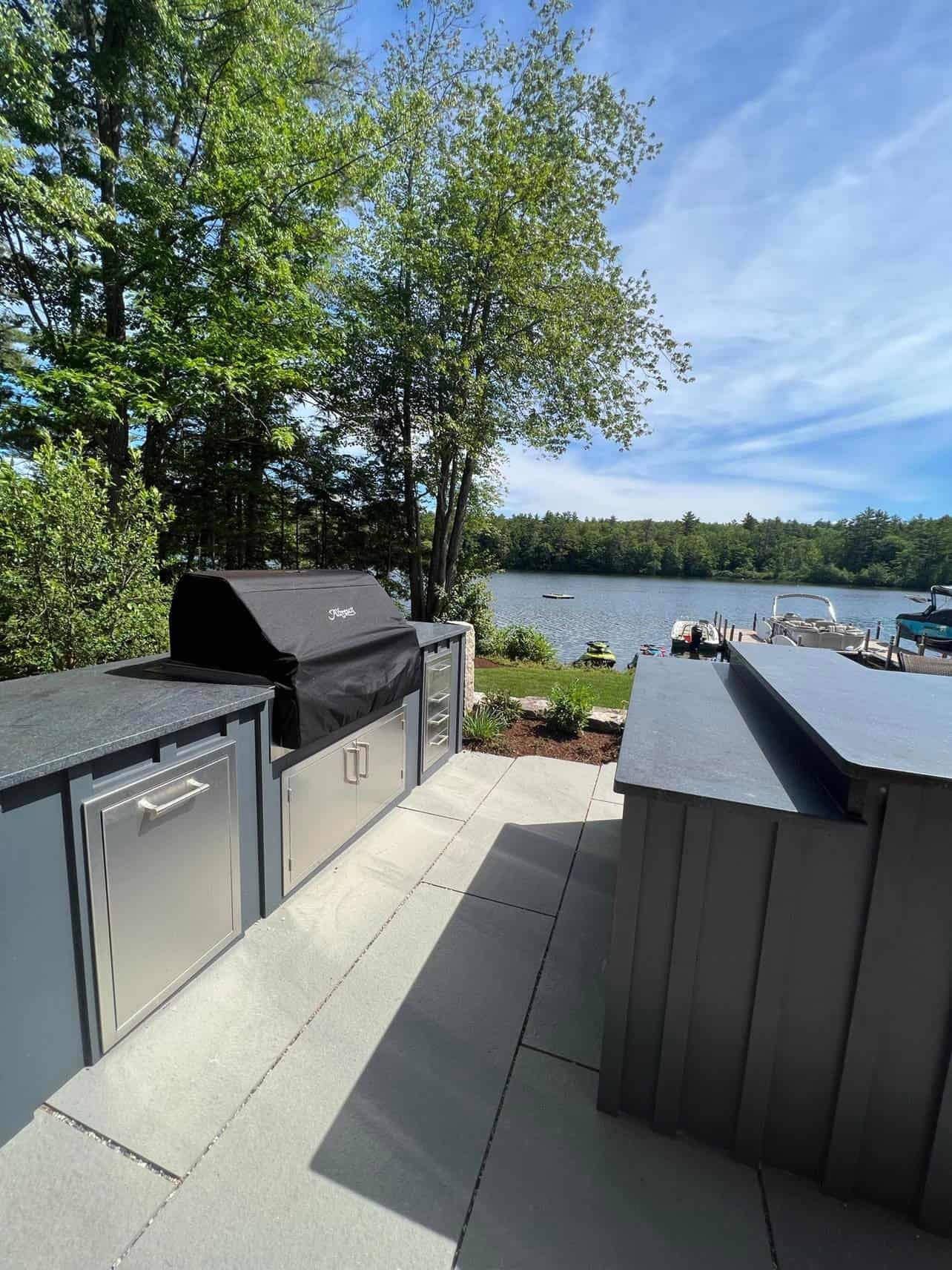 Kit it Out
Once you've thought about what you want to do with the space you've chosen, how your family eats, and how you want to entertain, now, it's time to go shopping. There are so many choices available for outdoor kitchens when it comes to appliances and fixtures. Here are some quick "shopping" lists to help you consider:
Cooking
BBQ Grill
Pizza Oven
Roasting Spit
Smoker
Warming Drawers
Gas Side Burners
Gas Griddles
Hood Vent
Proper venting for Gas Appliances
Cooling
Refrigerator
Ice Drawers or Bins
Wine Chillers/Fridges
Wet Bar/Beverage Center
Sink
Blender
Kegerators
Taps
Standard Kitchen Necessities
Countertops/Prep surfaces
Sink
Dishwasher
Storage Cabinets, Drawers and Shelves
Trash/Recycling
Pantry Storage
Compost Bins
Entertainment & Comfort
Furniture
Outdoor TV
Fireplace/Fire Pit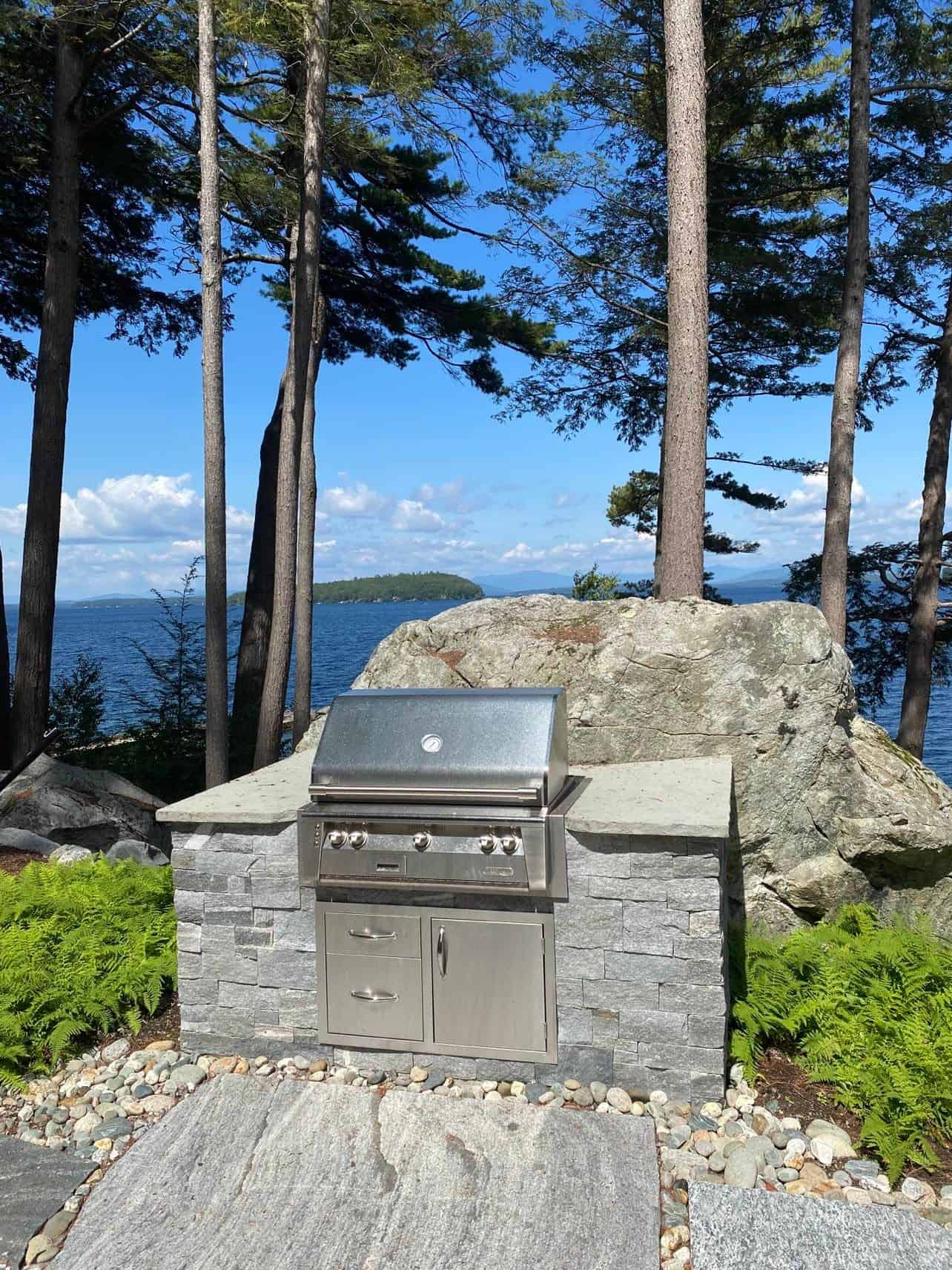 Material Considerations
Choosing the materials for your outdoor kitchen build is like designing your indoor kitchen, but with one extra consideration: this kitchen must withstand the elements across all four of New England's seasons. During the hot summer months, you must be able to touch surfaces without getting burned, and surfaces must be able to withstand the cold, snow, and sometimes abrupt changes in temperature we experience throughout the year.
For countertops, consider surfaces that are easily cleaned and that won't readily show burn marks if hot pots get put down on them or show stains if something is spilled on them. Choices include:
Granite is always a good choice (we are the Granite state after all), but since granite gets hot in the sun, use it in shaded areas. If you must use it in the sun, choose a light color.
Quartz is another popular choice for countertops in indoor kitchens, but it will yellow in the sun and can't stand up to our freeze/thaw cycles, so damage can occur.
Concrete is a good option and can be beautiful, but keep in mind that it needs to be sealed every couple of years.
Soapstone is beautiful in kitchens, but it scratches easily, and any oil will leave a stain.
Metal will be too hot to use as a countertop outdoors, and with our humidity and snow, will corrode quickly.
For cabinets, consider building cabinet frameworks out of stonework or masonry that matches your existing masonry or tiles. You can use stainless steel doors and cabinets that are nestled right into the stonework. If you prefer wood, there are many options that work well outdoors too.
At Stephens Landscaping, we've helped many homeowners design and plan their outdoor kitchens. We'd love to help you, too. To get started, call 603.707.0630 or email us!