Peonies are well-known, magnificent perennials with big blooms and lush leaves. They delight our senses every summer or spring with luxurious heads of ruffled petals. When fall comes around, it's high time to plant new ones, divide mature plants, and prepare them for next spring with a bit of care—here's how!  
How to Cut Back Peonies 
Peonies have a majestic but relatively short bloom time, averaging around two to three weeks. Deadhead the flowers after their blooms are spent to save them the energy of producing seeds, but make sure the green leaves remain until the end of the summer—they will feed your plant for the rest of the season.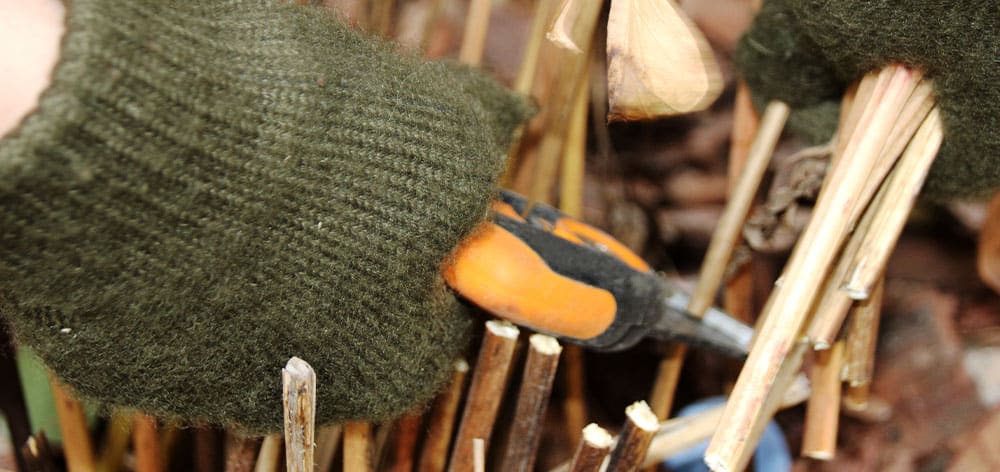 Once the leaves go brown in the fall, you can cut the stems back to the ground. Be careful not to cut so close as to damage the crown of the plant, as this is where new growth will arise next spring. Letting the leaves and stems stay on the plant over winter invites fungi, which can damage your peonies. 
Note: This is only applicable to herbaceous peonies, not tree peonies, which don't need to be cut back in the fall, and rarely need pruning except to remove dead and diseased branches in the spring. 
When to Plant Peonies 
Fall is the ideal time for planting new peony tubers; anytime in late September or October is fair game. The tubers should be in the ground for at least six weeks before the ground freezes. It's possible to plant in the spring, but they generally don't do as well in the first year as those planted in the previous fall.
Fall is also the best time for dividing and propagating a mature peony. Ideally, wait until the leaves turn brown and are dormant before digging and dividing. 
How to Make Your Peonies Comfortable
The Best Location:

Choose a sunny, well-draining location away from the wind. Remember to choose your location wisely as they don't like to be transplanted. Peonies do best in

rich organic soil

but tolerate many soil types. Anticipate a growth of two to four feet in height.
The Planting Process:

Dig a hole about two feet wide and two feet deep, and mix in some compost or aged manure during planting. You'll see three to five "eyes" or buds on the crown of the plant—make sure you plant these facing upwards and 2 inches below the soil surface; avoid planting them too deep.

Finishing Touches: Mulch your new plantings with evergreen boughs, straw, pine needles, or bark mulch to protect them over their first winter. Mulch should be removed in the spring after the risk of cold weather passes, as peonies don't like to be smothered by mulch above their crowns. Peonies more than a year old don't need to be mulched in the fall.   
When to Feed Peonies 
Mixing in compost or aged manure when you plant in the fall will boost their growth the following year. Generally, the best time to give them fertilizer is after they finish blooming in mid-summer! Compost or aged manure are the best foods for peonies, which you can top dress around the crown but not directly on top.
Tips for Summer Care
Stake Early: The big flower blossoms we love are usually so heavy that the stems keel over. Staking is necessary, but it's best not to wait until the flowers fall over. You can create a more stable and discreet support system by setting up your stakes early in the spring. Tomato cages, three-legged peony stakes, or crisscrossing wooden stakes are great options.

Plant Different Varieties for Longer Blooms:

Peonies only bloom for a short time, but you can enjoy their blooms in your garden for longer by growing more than one variety, each with different bloom times. Flower colors come in pink, purple, red, yellow, and white. Look for early, mid-, and late-season bloomers.  
For more info on peony fall care or to pick out your next new flower, feel free to visit Stephens Landscaping Garden Center in Moultonborough, and don't forget to follow us on Facebook or Instagram for updates!